01.09.2009 | Original Article | Ausgabe 4/2009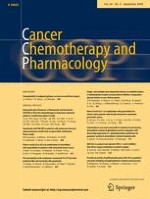 Neuronal expression of copper transporter 1 in rat dorsal root ganglia: association with platinum neurotoxicity
Zeitschrift:
Autoren:

Johnson J. Liu, Stephen M. F. Jamieson, Joshuan Subramaniam, Virginia Ip, Nancy N. Jong, Julian F. B. Mercer, Mark J. McKeage
Abstract
Purpose
We report the neuronal expression of copper transporter 1 (CTR1) in rat dorsal root ganglia (DRG) and its association with the neurotoxicity of platinum-based drugs.
Methods
CTR1 expression was studied by immunohistochemistry and RT-PCR. The toxicity of platinum drugs to CTR1-positive and CTR1-negative neurons was compared in DRG from animals treated with maximum tolerated doses of oxaliplatin (1.85 mg/kg), cisplatin (1 mg/kg) or carboplatin (8 mg/kg) twice weekly for 8 weeks.
Results
Abundant CTR1 mRNA was detected in DRG tissue. CTR1 immunoreactivity was associated with plasma membranes and cytoplasmic vesicular structures of a subpopulation (13.6 ± 3.1%) of mainly large-sized (mean cell body area, 1,787 ± 127 μm
2
) DRG neurons. After treatment with platinum drugs, the cell bodies of these CTR1-positive neurons became atrophied, with oxaliplatin causing the greatest percentage reduction in the mean cell body area relative to controls (42%;
P
< 0.05), followed by cisplatin (18%;
P
< 0.05) and carboplatin causing the least reduction (3.2%;
P
= NS). CTR1-negative neurons, with no immunoreactivity or only diffuse cytoplasmic staining, showed less treatment-induced cell body atrophy than CTR1-positive neurons.
Conclusions
CTR1 is preferentially expressed by a subset of DRG neurons that are particularly vulnerable to the toxicity of platinum drugs. These findings, together with its neuronal membrane localization, are suggestive of CTR1-related mechanisms of platinum drug neuronal uptake and neurotoxicity.