04.06.2019 | Preclinical study | Ausgabe 1/2019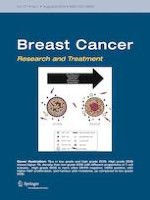 Neuronatin is a modifier of estrogen receptor-positive breast cancer incidence and outcome
Zeitschrift:
Autoren:

Cody Plasterer, Shirng-Wern Tsaih, Amy R. Peck, Inna Chervoneva, Caitlin O'Meara, Yunguang Sun, Angela Lemke, Dana Murphy, Jennifer Smith, Sophia Ran, Albert J. Kovatich, Jeffrey A. Hooke, Craig D. Shriver, Hai Hu, Edith P. Mitchell, Carmen Bergom, Amit Joshi, Paul Auer, Jeremy Prokop, Hallgeir Rui, Michael J. Flister
Wichtige Hinweise
Publisher's Note
Springer Nature remains neutral with regard to jurisdictional claims in published maps and institutional affiliations.
Abstract
Purpose
Understanding the molecular mediators of breast cancer survival is critical for accurate disease prognosis and improving therapies. Here, we identified Neuronatin (NNAT) as a novel antiproliferative modifier of estrogen receptor-alpha (ER+) breast cancer.
Experimental design
Genomic regions harboring breast cancer modifiers were identified by congenic mapping in a rat model of carcinogen-induced mammary cancer. Tumors from susceptible and resistant congenics were analyzed by RNAseq to identify candidate genes. Candidates were prioritized by correlation with outcome, using a consensus of three breast cancer patient cohorts. NNAT was transgenically expressed in ER+ breast cancer lines (T47D and ZR75), followed by transcriptomic and phenotypic characterization.
Results
We identified a region on rat chromosome 3 (142–178 Mb) that modified mammary tumor incidence. RNAseq of the mammary tumors narrowed the candidate list to three differentially expressed genes: NNAT, SLC35C2, and FAM210B. NNAT mRNA and protein also correlated with survival in human breast cancer patients. Quantitative immunohistochemistry of NNAT protein revealed an inverse correlation with survival in a univariate analysis of patients with invasive ER+ breast cancer (training cohort:
n
 = 444, HR = 0.62,
p
 = 0.031; validation cohort:
n
 = 430, HR = 0.48,
p
 = 0.004). NNAT also held up as an independent predictor of survival after multivariable adjustment (HR = 0.64,
p
 = 0.038). NNAT significantly reduced proliferation and migration of ER+ breast cancer cells, which coincided with altered expression of multiple related pathways.
Conclusions
Collectively, these data implicate NNAT as a novel mediator of cell proliferation and migration, which correlates with decreased tumorigenic potential and prolonged patient survival.