01.12.2019 | Case report | Ausgabe 1/2019 Open Access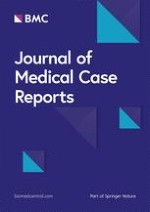 Neuropsychiatric symptoms in a patient with Dyke–Davidoff–Masson syndrome and systemic lupus erythematosus: a case report
Zeitschrift:
Autoren:

José Sordia-Ramírez, Adrián Infante-Valenzuela, Iván de Jesús Hernández-Galarza, Antonio Costilla-Esquivel
Abstract
Background
Dyke–Davidoff–Masson syndrome is an uncommon constellation of radiological and clinical findings. Few reports describe co-occurring psychiatric manifestations. Systemic lupus erythematosus is a systemic disease with vascular, neurologic, and psychiatric involvement. To the best of our knowledge, no case reports have been made associating these entities.
Case presentation
We present the case of a 21-year-old Mexican mestizo woman with a history of systemic lupus erythematosus diagnosed at 4 years of age, who developed focal impaired awareness seizures when she was 8-years old, which became treatment-resistant at age 15. Two years prior to our evaluation, she developed deep vein thrombosis; clinical and laboratory criteria were met to diagnose secondary antiphospholipid syndrome. After being treated with anticonvulsants, glucocorticoids, and immunosuppressants with only a partial response, she developed a severe major depressive episode 1 year prior to our assessment, including two suicide attempts. She was referred to the out-patient clinic of our department for evaluation; intellectual disability, depressive symptoms, and behavioral symptoms were documented. Imaging studies revealed structural abnormalities in the left cerebral hemisphere: cortical atrophy, enlargement of sulci and cisternal spaces, and hyperpneumatization of the frontal sinus. Treatment with an antidepressant was initiated and maintained for 1 year, added to anticonvulsants and immunosuppressants. Depressive and behavioral symptoms diminished and no suicidal ideation has been noted at follow-up.
Conclusions
Dyke–Davidoff–Masson syndrome was diagnosed, accompanied by clinical symptoms previously reported as epilepsy and intellectual disability. This case report illustrates the complexity of syndrome presentation in an adult female, constituting a diagnostic and therapeutic challenge. This constellation of symptoms and structural brain abnormalities should be kept in mind in patients with neuropsychiatric manifestations and systemic diseases with central nervous system involvement, especially when diagnosed at a young age.