12.01.2021 | Non-Thematic Review | Ausgabe 1/2021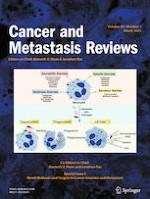 Neutrophil-derived granule cargoes: paving the way for tumor growth and progression
Zeitschrift:
Autoren:

Kavita Rawat, Saima Syeda, Anju Shrivastava
Wichtige Hinweise
Publisher's note
Springer Nature remains neutral with regard to jurisdictional claims in published maps and institutional affiliations.
Abstract
Neutrophils are the key cells of our innate immune system mediating host defense
via
a range of effector functions including phagocytosis, degranulation, and NETosis. For this, they employ an arsenal of anti-microbial cargoes packed in their readily mobilizable granule subsets. Notably, the release of granule content is tightly regulated; however, under certain circumstances, their unregulated release can aggravate tissue damage and could be detrimental to the host. Several constituents of neutrophil granules have also been associated with various inflammatory diseases including cancer. In cancer setting, their excessive release may modulate tissue microenvironment which ultimately leads the way for tumor initiation, growth and metastasis. Neutrophils actively infiltrate within tumor tissues, wherein they show diverse phenotypic and functional heterogeneity. While most studies are focused at understanding the phenotypic heterogeneity of neutrophils, their functional heterogeneity, much of which is likely orchestrated by their granule cargoes, is beginning to emerge. Therefore, a better understanding of neutrophil granules and their cargoes will not only shed light on their diverse role in cancer but will also reveal them as novel therapeutic targets. This review provides an overview on existing knowledge of neutrophil granules and detailed insight into the pathological relevance of their cargoes in cancer. In addition, we also discuss the therapeutic approach for targeting neutrophils or their microenvironment in disease setting that will pave the way forward for future research.