01.12.2016 | Research article | Ausgabe 1/2016 Open Access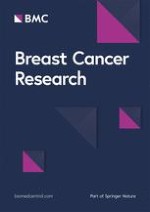 Neutrophils drive accelerated tumor progression in the collagen-dense mammary tumor microenvironment
Zeitschrift:
Autoren:

María G. García-Mendoza, David R. Inman, Suzanne M. Ponik, Justin J. Jeffery, Dagna S. Sheerar, Rachel R. Van Doorn, Patricia J. Keely
Wichtige Hinweise
Electronic supplementary material
The online version of this article (doi:
10.​1186/​s13058-016-0703-7
) contains supplementary material, which is available to authorized users.
Competing interests
The authors declare that they have no competing interests.
Authors' contributions
MGG carried out all of the experiments including single cell isolation, blood collection and analysis, flow cytometry, mouse cytokine ELISA plate array, immunohistochemical analysis, and neutrophil depletion experiments, analyzed the data, and drafted the manuscript. DRI participated in the upkeep of the mouse colony, genotyping, cardiac perfusion, and tissue collection, and helped draft the manuscript. SMP participated in study design, data interpretation and manuscript review. JJJ carried out the hybrid 3D PET-CT imaging and helped draft the manuscript. DSS provided experience in the design of flow cytometry panels and data collection, and helped draft the manuscript. RRV carried out Ly6G immunohistochemical analysis of tumors, imaged and quantified the depletion mouse cohort, imaged and analyzed lung metastases from neutrophil-depleted mice as a blind observer, and reviewed the manuscript. PJK conceived of the study, and participated in its design and data interpretation, and edited the manuscript. All authors read and approved the final manuscript.
Abstract
Background
High mammographic density has been correlated with a 4-fold to 6-fold increased risk of developing breast cancer, and is associated with increased stromal deposition of extracellular matrix proteins, including collagen I. The molecular and cellular mechanisms responsible for high breast tissue density are not completely understood.
Methods
We previously described accelerated tumor formation and metastases in a transgenic mouse model of collagen-dense mammary tumors (type I collagen-α1 (Col1α1)tm1Jae and mouse mammary tumor virus - polyoma virus middle T antigen (MMTV-PyVT)) compared to wild-type mice. Using ELISA cytokine arrays and multi-color flow cytometry analysis, we studied cytokine signals and the non-malignant, immune cells in the collagen-dense tumor microenvironment that may promote accelerated tumor progression and metastasis.
Results
Collagen-dense tumors did not show any alteration in immune cell populations at late stages. The cytokine signals in the mammary tumor microenvironment were clearly different between wild-type and collagen-dense tumors. Cytokines associated with neutrophil signaling, such as granulocyte monocyte-colony stimulated factor (GM-CSF), were increased in collagen-dense tumors. Depleting neutrophils with anti-Ly6G (1A8) significantly reduced the number of tumors, and blocked metastasis in over 80 % of mice with collagen-dense tumors, but did not impact tumor growth or metastasis in wild-type mice.
Conclusion
Our study suggests that tumor progression in a collagen-dense microenvironment is mechanistically different, with pro-tumor neutrophils, compared to a non-dense microenvironment.