01.12.2018 | Research article | Ausgabe 1/2018 Open Access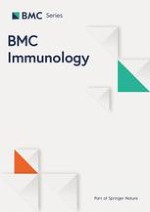 Neutrophils in primary gastric tumors are correlated with neutrophil infiltration in tumor-draining lymph nodes and the systemic inflammatory response
Zeitschrift:
Autoren:

Soichiro Hiramatsu, Hiroaki Tanaka, Junya Nishimura, Chie Sakimura, Tatsuro Tamura, Takahiro Toyokawa, Kazuya Muguruma, Masakazu Yashiro, Kosei Hirakawa, Masaichi Ohira
Abstract
Background
Tumor-Associated Neutrophils (TANs) may be able to induce lymphangiogenesis and angiogenesis, although the detailed roles of TANs remain unclear. The Neutrophil-Lymphocyte Ratio (NLR) is an inflammation-based prognostic factor for gastric cancer. This study aimed to investigate the distribution of CD15+neutrophils in the primary tumor and Tumor-Draining Lymph Nodes (TDLNs), and to examine the association of TANs with the clinicopathological features (including NLR) of patients with gastric cancer.
Results
Immunohistochemical staining showed that the median number of CD15
+
TANs was 18 and 24 per high-power field (HPF) in primary tumors and TDLNs, respectively. Patients were divided into high and low infiltration groups based on the median number. A high number of infiltrating CD15
+
TANs in the primary tumors and in the TDLNs were associated with depth of invasion and lymph node metastasis. Kaplan-Meier analysis revealed that a poor overall survival was associated with high numbers of CD15
+
TANs, and the multivariate analyses revealed that a high number of CD15
+
TANs in the TDLNs was an independent prognostic factor. The numbers of CD15
+
TANs in the primary tumors and TDLNs showed weak positive correlation. The number of CD15
+
TANs in the primary tumors was positively correlated with the preoperative NLR, (
P
 = 0.001,
R
 = 0.327) and immunohistochemical staining revealed that C-X-C motif chemokine receptor 2 (CXCR2)
+
neutrophils might be the origin of the CD15
+
TANs. Flow cytometry analysis indicated that infiltrating neutrophils increased in the tumor and TDLN compared to non-cancerous tissue. Neutrophils treated with cancer supernatant upregulated TWIST and IL-6 genes in vitro.
Conclusion
Our findings suggested that local infiltration of CD15+TANs may be correlated with inflammation in TDLNs and systemic response to cause metastasis in gastric carcinoma.