01.12.2017 | Review | Ausgabe 1/2017 Open Access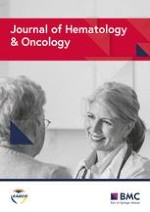 New development in CAR-T cell therapy
Zeitschrift:
Autoren:

Zhenguang Wang, Zhiqiang Wu, Yang Liu, Weidong Han
Abbreviations
allo-SCT
Allogeneic stem cell transplantation
B-ALL
B cell acute lymphoblastic leukemia
B-NHL
B cell non-Hodgkin's lymphoma
CAR
Chimeric antigen receptor
CAR-T cells
Chimeric antigen receptor-modified T cells
CCR
Chimeric costimulatory receptor
CLL
Chronic lymphocytic leukemia
DLI
Donor lymphocyte infusion
EGFR
Epidermal growth factor receptor
EGFRvIII
Variant III of the epidermal growth factor receptor
FITC
Fluorescein isothiocyanate
GFP
Green fluorescent protein
GVHD
Graft-versus-host disease
HER2
Human epidermal growth factor receptor-2
MHC
Major histocompatibility complex
MSKCC
Memorial Sloan Kettering Cancer Center
NSG
NOD/SCID/gamma-chain-deficient
PMLBCL
Primary mediastinal large B cell lymphoma
Pro-antibody
Protease-activated antibody
PSCA
Prostate stem cell antigen
PSMA
Prostate-specific membrane antigen
scFv
Single-chain variable fragment
SynNotch
Synthetic Notch receptors
Upenn
University of Pennsylvania
Background
Chimeric antigen receptor (CAR) is a modular fusion protein comprising extracellular target binding domain usually derived from the single-chain variable fragment (scFv) of antibody, spacer domain, transmembrane domain, and intracellular signaling domain containing CD3z linked with zero or one or two costimulatory molecules such as CD28, CD137, and CD134 [
1
–
3
]. T cells engineered to express CAR by gene transfer technology are capable of specifically recognizing their target antigen through the scFv binding domain, resulting in T cell activation in a major histocompatibility complex (MHC)-independent manner [
4
]. In the past several years, clinical trials from several institutions to evaluate CAR-modified T cell (CAR-T cell) therapy for B cell malignancies including B cell acute lymphoblastic leukemia (B-ALL), B cell non-Hodgkin's lymphoma (B-NHL), chronic lymphocytic leukemia (CLL), and Hodgkin's lymphoma (HL) have demonstrated promising outcomes by targeting CD19 [
5
–
13
], CD20 [
14
], or CD30 [
15
], where mostly compelling success has been achieved in CD19-specific CAR-T cells for B-ALL with similar high complete remission (CR) rates of 70~94% [
5
–
8
,
12
]. This significant efficacy not only leads to an impending paradigm shift in the treatment of B cell malignancies but also results in a strong push toward expanding the uses of CAR-T cell therapy for solid tumors. However, the preliminary outcomes of clinical trials testing epidermal growth factor receptor (EGFR) [
16
], mesothelin (MSLN) [
17
,
18
], variant III of the epidermal growth factor receptor (EGFRvIII) [
19
], human epidermal growth factor receptor-2 (HER2) [
20
,
21
], carcinoembryonic antigen (CEA) [
22
], and prostate-specific membrane antigen (PSMA) [
23
] in solid tumors are less encouraging. Moreover, rapid death caused by the off-tumor cross-reaction of CAR-T cells has been reported [
20
], highlighting the important priority of enhancing CAR-T cell therapy safety. Overall, there remain several powerful challenges to the broad application of CAR-T cell therapy in the future: (1) antigen loss relapse, an emerging threat to CAR-T cell therapy, mainly observed in anti-CD19 CAR-T cells for B-ALL; (2) on-target/off-tumor toxicity resulting from the recognition of healthy tissues by CAR-T cells which can cause severe and even life-threatening toxicities, especially in the setting of solid tumors; (3) there is less efficacy in solid tumors, mainly due to the hostile tumor microenvironment; (4) difficulty of industrialization because of the personalized autologous T cell manufacturing and widely "distributed" approach. How to surmount these hurdles presents a principal direction of CAR-T cell therapy development, and a variety of strategies are now being investigated (Fig.
1
). Here, we mainly focus on the new CAR design to address tumor antigen escape relapse and to enhance the safety of CAR-T cells in solid tumors.
×
How to overcome antigen loss relapse in hematological malignancies
How to enhance safety of CAR-T cells in solid tumors
Severe treatment-related toxicities mainly due to the on-target/off-tumor recognition are another obstacle for CAR-T cell therapy beyond hematological malignancies [
20
]. How to abrogate the toxicity is crucial for this emerging technology and has become a research hotspot. Strategies for enhancing the safety of CAR-T cell therapy in solid tumors fall into several categories (Table
2
).
Table 2
Strategies for enhancing safety of CAR-T cells in solid tumors
Strategy

Phase

Reference

Enhancing selectivity of CAR

Selecting safer antigen

Tumor-specific antigen

Clinical trial

Aberrantly glycosylated antigens

Preclinical research

TCR-like CAR

Preclinical research

Combinatorial antigen targeting

Complementary signaling

Preclinical research

SynNotch/CAR circulation

Preclinical research

iCAR

Preclinical research

Turning sensitivity of scFv

Turning the affinity

Preclinical research

Masked CAR

Preclinical research

Control CAR-T cell activity

Limiting CAR expression

Transient mRNA CAR

Clinical trial

Switchable CAR-T cell

Dimerizing small molecules

Preclinical research

Tumor targeting antibody

Preclinical research

Suicide gene

iCasp9

Clinical trial

Antibody-mediated depletion

Clinical trial
Enhancing selectivity of CAR
Control CAR-T cell activity
Limiting CAR expression
Presently, the most common gene transfer strategies for clinical work are viral techniques such as the retrovirus or lentivirus that can result in permanent transgene encoding CAR expression; however, these are disadvantageous when severe toxicity related to CAR-T cell therapy occurs [
80
]. One of the non-viral approaches, electroporation of CAR mRNA characterized by transient CAR gene expression, is regarded as potentially safer than the viral techniques when introducing a novel CAR into patients [
81
]. Investigators at the University of Pennsylvania (Upenn) first evaluated the MSLN-specific mRNA CAR-T cells in patients with MSLN-expressing solid tumors (NCT01355965) on the basis of the encouraging results of preclinical studies [
81
,
82
] and demonstrated the feasibility and safety of this novel strategy. Together with the anti-tumor activity observed, this supported the development of the mRNA CAR-based strategies for solid tumors [
17
,
18
]. It is worth noting that multiple infusions are necessary for mRNA CAR-T cells due to the transient expression of transgene, enhancing the risk of anaphylaxis as reported [
18
]. Taken together, anti-MSLN CAR-T cells transduced with lentivirus were designed and tested in the subsequent clinical trials based on the safety profile shown in the MSLN-specific mRNA CAR-T cells [
83
].
Switchable CAR-T
The switchable CAR is a novel design characterized by incorporating switch molecules comprising dimerizing small molecules or a tumor targeting antibody as a bridge to link the two adjacent domains of the CAR structure [
84
,
85
] or tumor antigen and CAR-T cells [
86
–
89
], by which the anti-tumor activity of the CAR-T cells is strictly dependent on the receptor complex formation in the presence of those switch molecules, opening up opportunities to remotely control or terminate the CAR-T cell response to avoid off-target toxicity that can occur immediately after T cell infusion. Wu et al. showed a switchable CAR design, whereby separate extracellular antigen-binding domain and intracellular signaling component can be assembled through an FKBP-FRB module only in the presence of heterodimerizing small molecules (rapamycin analog AP21967) confirmed by single-molecule imaging [
85
]. Wu et al. also observed the efficient killing of target cells by switchable CAR-T cells in vitro and in vivo, and this response was regulated in a titratable manner. Similar outcomes were observed in another switchable CAR by using a system that is directly integrated into the hinge domain that separates the scFv from the cell membrane [
84
]. Alternatively, a group at the California Institute for Biomedical Research developed antibody-based switches with site-specific incorporation of fluorescein isothiocyanate (FITC) or peptide neo-epitope (PNE) into a tumor antigen-specific antibody, which can redirect the CAR-T cells specific for corresponding FITC or PNE to tumor cells expressing the same tumor antigens and forming a switch-dependent immunological synapse [
86
,
88
,
90
]. They tested this system in B cell malignancies and breast tumors by targeting CD19, CD22, and HER2 and demonstrated that these switchable CAR-T cells have potent antigen-specific and dose-dependent anti-tumor activity, providing an attractive way to improve the safety of CAR-T cell therapy in the clinic and suggesting that these switchable CAR-T cells could be applicable to a wide range of tumor antigens.
Suicide gene
Unlike the above-described that the CAR-T cell response can be turned on again when the heterodimerizing small molecules are present, the depletion of CAR-T cells by incorporation of a suicide gene such as inducible caspase-9 (iCasp9) enzyme is irreversible [
91
]. Di Stasi et al. first tested the iCasp9-modified donor T cells in haploidentical SCT recipients and showed that more than 90% of the modified T cells were depleted within 30 min after administration of a single dose of dimerizing agent AP1903 among 4 patients developing GVHD [
92
]. This rapid onset of action resulted in the fast (within 24 h) and permanent abrogation of GVHD, albeit there remained a small number of residual iCasp9-modified T cells. Currently, several clinical trials evaluating iCasp9-modified CAR-T cells are enrolling patients (NCT02274584 and NCT02414269); however, these residual cell populations and the possibility of iCasp9 dimerization independent of dimerizing agent potentially limit the widespread use of this strategy [
93
]. This selective depletion can also be mediated by the clinically approved therapeutic antibody when the transduced cells are engineered to express the antibody targeted cell surface antigen such as truncated EGFR (tEGFR) [
94
], a human EGFR polypeptide retaining the intact cetuximab binding site in extracellular domain III. Moreover, tEGFR can serve as a cell surface marker for the identification of the infused CAR-T cells in vivo and has been used in clinical trials [
5
,
9
]. Nonetheless, whether this cell ablation through antibody-dependent cellular cytotoxicity can rapidly start in the event that severe toxicity occurs in humans remains undetermined and needs to be verified in forthcoming clinical trials.
Conclusions
CAR-T cells are the best-in-class example of genetic engineering of T cells, bringing us spectacular opportunities and hopefully entering the mainstream of cancer therapy for B cell malignancies in the next 1–2 years. But tumor antigen escape relapse resulting from selective immune pressure of CAR-T cells highlights the shortcomings of this novel modality. Moreover, a similar surprise has not been elicited in the application of solid tumors with less efficacy and on-target/off-tumor toxicity, suggesting that enhancing the efficacy and safety of CAR-T cells should be considered as a starting point for the novel CAR design. Encouragingly, the proof-of-concept designs mentioned above to address these issues have been tested in experimental studies, providing preliminary evidence of feasibility and paving the road to further optimization. Of these designs, targeting more than one tumor antigen (i.e., dual-targeted CAR) should take the front seat due to it is not only beneficial to reducing or preventing the risk of antigen escape relapse either in hematological malignancies or solid tumors but also may alleviate the impact of antigenic heterogeneity on therapeutic effect in solid tumors. However, the prerequisite of the dual-targeted CAR for successfully offsetting antigen escape relapse is that it can effectively kill targets expressing either antigen, similarly to a monospecific CAR. This places a significant restriction on the implement in solid tumors as dual-targeted CAR potentially enhances the risk of on-target/off-tumor recognition compared to the unispecific CAR. In fact, as discussed above, the concept of using more than one target for CAR-T cell therapy in solid tumors mainly focuses on enhancing the specificity of CAR through the design of combinatorial antigen targeting, by which T cell only can be fully activated when the two target antigens are present at the same time. Above all, dual-targeted CAR is an optimal approach for overcoming antigen escape relapse with manageable on-target/off-tumor toxicity-B cell aplasia in B cell malignancies; however, it is still challenging to implement in solid tumors because it is difficult to balance the therapeutic effect and on-target/off-tumor toxicity. Combination tuning the sensitivity of CAR by scFv affinity with suicide gene may be a powerful strategy for broadening the application of dual-targeted CAR beyond hematological malignancies. However, the eventual effects of these novel designs still need to be determined in forthcoming clinical trials.
Acknowledgements
None.
Funding
This research was supported by the grants from the National Natural Science Foundation of China (No. 81230061 to WDH), the Science and Technology Planning Project of Beijing City (No. Z151100003915076 to WDH), and the National Key Research and Development Program of China (No. 2016YFC1303501 and 2016YFC1303504 to WDH).
Availability of data and materials
The material supporting the conclusion of this review has been included within the article.
Authors' contributions
WH designed the study. ZWa drafted the manuscript. ZWu and YL participated in the manuscript preparation and revisions. ZWa designed and finalized the figure and tables. All authors read and approved the final manuscript.
Competing interests
The authors declare that they have no competing interests.
Consent for publication
This is not applicable for this review.
Ethics approval and consent to participate
This is not applicable for this review.
Open Access
This article is distributed under the terms of the Creative Commons Attribution 4.0 International License (
http://​creativecommons.​org/​licenses/​by/​4.​0/​
), which permits unrestricted use, distribution, and reproduction in any medium, provided you give appropriate credit to the original author(s) and the source, provide a link to the Creative Commons license, and indicate if changes were made. The Creative Commons Public Domain Dedication waiver (
http://​creativecommons.​org/​publicdomain/​zero/​1.​0/​
) applies to the data made available in this article, unless otherwise stated.