27.04.2019 | Original Article | Ausgabe 8/2019 Open Access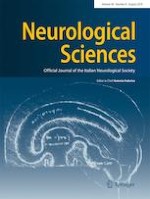 New evidence-based A1, A2, A3 alarm time zones for transferring thrombolysed patients to hyper-acute stroke units: faster is better
Zeitschrift:
Autoren:

Thang S. Han, Giosue Gulli, Brendan Affley, David Fluck, Christopher H. Fry, Christopher Barrett, Puneet Kakar, Sapna Sharma, Pankaj Sharma
Wichtige Hinweise
Publisher's note
Springer Nature remains neutral with regard to jurisdictional claims in published maps and institutional affiliations.
Abstract
Objectives
The National Institute of Health and Clinical Excellence and The Royal College of Physicians recommend transferring thrombolysed patients with stroke to a hyperacute stroke unit (HASU) within 4 h from hospital arrival (TArrival-HASU), but there is paucity of evidence to support this cut-off. We assessed if a shorter interval within this target threshold conferred a significant improvement in patient mortality.
Design
We conducted a retrospective analysis of prospectively collected data from the Sentinel Stroke National Audit Programme.
Setting
Four major UK hyperacute stroke centres between 2014 and 2016.
Participants
A total of 183 men (median age = 75 years, IQR = 66–83) and 169 women (median age = 81 years, IQR = 72.5–88) admitted with acute ischaemic stroke.
Main outcome measures
We evaluated TArrival-HASU in relation to inpatient mortality, adjusted for age, sex, co-morbidities, stroke severity, time between procedures, time and day on arrival.
Results
There were 51 (14.5%) inpatient deaths. On ROC analysis, the AUC (area under the curve) was 61.1% (52.9–69.4%,
p
 = 0.01) and the cut-off of T
Arrival-HASU
where sensitivity equalled specificity was 2 h/15 min (intermediate range = 30 min to 3 h/15 min) for predicting mortality. On logistic regression, compared with the fastest T
Arrival-HASU
group within 2 h/15 min, the slowest T
Arrival-HASU
group beyond upper limit of intermediate range (≥ 3 h/15 min) had an increased risk of mortality: 5.6%
vs.
19.6%, adjusted OR = 5.6 (95%CI:1.5–20.6,
p
 = 0.010).
Conclusions
We propose three new alarm time zones (A1, A2 and A3) to improve stroke survival: "A1 Zone" (TArrival-HASU < 2 h/15 min) indicates that a desirable target, "A2 Zone" (TArrival-HASU = 2 h/15 min to 3 h/15 min), indicates increasing risk and should not delay any further, and "A3 Zone" (TArrival-HASU ≥ 3 h/15 min) indicates high risk and should be avoided.