29.05.2017 | Review | Ausgabe 5/2017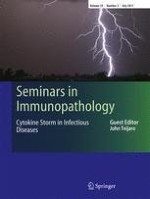 New fronts emerge in the influenza cytokine storm
Zeitschrift:
Autoren:

Xi-zhi J. Guo, Paul G. Thomas
Wichtige Hinweise
This article is a contribution to the special issue on Cytokine Storm in Infectious Diseases - Guest Editor: John Teijaro
Abstract
Influenza virus is a significant pathogen in humans and animals with the ability to cause extensive morbidity and mortality. Exuberant immune responses induced following infection have been described as a "cytokine storm," associated with excessive levels of proinflammatory cytokines and widespread tissue damage. Recent studies have painted a more complex picture of cytokine networks and their contributions to clinical outcomes. While many cytokines clearly inflict immunopathology, others have non-pathological delimited roles in sending alarm signals, facilitating viral clearance, and promoting tissue repair, such as the IL-33—amphiregulin axis, which plays a key role in resolving some types of lung damage. Recent literature suggests that type 2 cytokines, traditionally thought of as not involved in anti-influenza immunity, may play an important regulatory role. Here, we discuss the diverse roles played by cytokines after influenza infection and highlight new, serene features of the cytokine storm, while highlighting the specific functions of relevant cytokines that perform unique immune functions and may have applications for influenza therapy.