01.12.2017 | Research | Ausgabe 1/2017 Open Access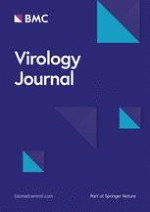 New H6 influenza virus reassortment strains isolated from Anser fabalis in Anhui Province, China
Zeitschrift:
Autoren:

Ye Ge, Hongliang Chai, Zhiqiang Fan, Xianfu Wang, Qiucheng Yao, Jian Ma, Si Chen, Yuping Hua, Guohua Deng, Hualan Chen
Abbreviations
RT-PCR
Reverse-transcription polymerase chain reaction
Background
Avian influenza virus (AIV) is an important zoonotic pathogen [
1
] and can be classified into 16 hemagglutinin (HA) subtypes and 9 neuraminidase (NA) subtypes based on the antigenicity of these two surface glycoproteins. At least 136 species have been discovered in 26 different families of wild birds and harbour 144 subtypes of influenza A virus [
1
–
4
]. Most subtypes are found not only in common aquatic birds but also in lower mammals, such as bats, as has been demonstrated in recent reports [
1
,
5
–
7
]. In Qinghai Lake, China in 2005, massive numbers of migrating birds died by H5N1, and this virus subsequently spread worldwide [
8
,
9
]. In recent years, different influenza virus subtypes (such as H5, H6, H7, and H10) have emerged in succession in poultry, crossed the species barrier and caused frequent outbreaks of human infection [
1
,
10
–
15
]. The continuous outbreaks of avian influenza in recent decades have alarmed and increased focus on the role of wild birds, as major reservoirs, that maintain the persistence and variation of AIV, facilitating viral spread and disease occurrence.
H6 AIV was first isolated from turkeys in Massachusetts, USA in 1965 [
10
,
16
]. Currently, H6 AIVs has a worldwide distribution, and strains of the virus have been detected in various animal species [
17
]. On June 21, 2013, the first case of a human infection by an avian-origin H6N1 influenza A virus (A/Taiwan/2/2013, Taiwan2) was reported by the Taiwan Centres for Disease Control [
11
,
18
]. Human infection with H6 AIVs in mainland China has not been reported, but a serum antibody positive for the H6 virus was found in poultry workers [
19
]. More than 30% of the H6 AIVs circulating in poultry in China have enhanced affinity to human-like receptors (ɑ-2, 6 NeuAcGal). Some H6 subtypes can also infect mice without prior adaptation, and some can be efficiently transmitted among guinea pigs [
17
]. These events indicate that H6 AIV can cross species barriers and directly infect humans. As the natural host of AIVs, wild birds play an important role in virus reassortment as well as intra- and interspecies transmission [
4
,
5
]. However, there is little research regarding the biological properties of H6 AIV strains from wild birds and their potential threat to mammals compared to the many studies of H6 AIV in poultry.
In the present study, we isolated 13 H6 AIV strains after surveying wild birds in the wetlands of the National Nature Reserves in Anhui Province, China. For all of these strains, each gene segment was sequenced to analyse phylogenetic and speculate its origin. We also preliminarily evaluated the potential threat of each strain to mice. Our study highlights the importance of performing regular surveillance of AIV strains in Anhui Province, China as an integral part of worldwide efforts to better understand AIV ecology and prevent the emergence of novel, potentially pandemic strains. Surveillance of avian influenza virus (AIVs) in wild birds for early warning, prevention, and control of viral outbreaks should be enhanced to reduce the risk of pathogen emergence from wildlife host reservoirs.
Methods
Virus isolation and identification
In spring and autumn of 2014, 2970 faecal samples were collected from wild birds in Anhui Province, China. Fresh, single faecal samples were collected with cotton swabs and placed into 5 ml EP tubes with 2 ml virus protection solution (phosphate-buffered solution (pH 7.2) supplemented with penicillin, streptomycin, and 10% glycerinum). The handheld end of each cotton swab was broken off, and the remainder was placed into the sample tube and covered tightly. The handheld ends of the swabs were inserted into the ground to designate collection locations to avoid repetition in sampling.
Bird species were identified based on morphological characteristics observed by binoculars before sampling and were further determined based on faecal shape and colour in addition to DNA barcoding [
20
]. The samples were vortexed, oscillation and finally centrifuged, and the collected supernatant was inoculated into 9-day-old specific-pathogen-free (SPF) chicken embryos. Allantoic fluid was harvested after 72 h of culture. The HA activity of the allantoic fluid was then evaluated using an HA test. Following this, influenza virus and HA subtypes were identified using a hemagglutination inhibition (HI) test [
21
] with H6 mono-antiserum and further verified using subtype-specific real-time PCR (RT-PCR) [
22
,
23
]. Virus was standardized to a concentration of 4 HAU/25 μl prior to using the HI assay to identify HA subtype. Working in a PBC, 25 μL of standardized test virus for each unknown isolate was dispensed into a series of three wells (in triplicate) in a U-bottom microtitre plate. Additionally, 25 μL of a corresponding HA-subtype positive-control antigen was dispensed at a 4 HAU/25 μL concentration into positive-control wells. Then, 25 μl of the appropriate standardized antiserum was added to the first well of the HA-subtype series. The antiserum in the antigen wells was then serially diluted beginning with the first well (25 μL carry-back with the excess 25 μL from the final row being discarded). In this way, the serum was diluted into standardized antigen. Each subtype series was diluted as soon as possible after the addition of the antiserum for that series. After this step, 25 μL of liquid remained in each well. The plate was then covered and incubated at room temperature for 25 min. Following this, 25 μL of 1% chicken erythrocyte suspension was added to each well, and the plate was submitted to gentle shaking/agitation. The erythrocyte solution was mixed periodically during this step to ensure an even suspension of erythrocytes during the dispensing process. The plate was then covered with microtitre plate-sealing tape (the PBS was removed from the plates after sealing with the tape) and incubated at room temperature until a distinct button formed in the positive-control wells, which typically required 20–30 min. The assay plates were initially observed after approximately 20 min of incubation and checked frequently thereafter for evidence of hemagglutination. Because some isolates can elute (i.e., detach from erythrocytes) in as little as 30 min, the time window for evaluation of assay results is short in some cases [
21
]. NA subtypes were directly analysed using subtype-specific RT-PCR and sequencing analysis. Viral RNA was extracted from the allantoic fluid samples that were positive in the HA test using TRIzol reagent. Next, cDNA was synthesized by reverse transcription with the Uni12 primer. Viral genomes were PCR-amplified using primers complementary to the conserved promoter and non-coding region of each gene segment (Table
1
). The PCR reaction contained 1 μl cDNA, 1 μl forward primer and reverse primer, 5 μl 10× Taq buffer (TAKARA, Japan), 4 μl 2.5 mM dNTPs (TAKARA, Japan), 1 μl Ex Taq (TAKARA, Japan) and 37 μl RNase-free water for a final volume of 50 μl. A single PCR program was used for all primers with the following conditions: initial denaturation at 95 °C for 10 min; 30 cycles of 95 °C for 30 s, 56 °C for 30 s, and 72 °C for 1.5 min; and extension at 72 °C for 10 min, after which the reaction was stored at 4 °C. The PCR products were purified using a PCR purification kit (TianGen, China) and sequenced on an Applied Biosystems DNA analyser using specific primers.
Table 1
Primers in RT-PCR
| Primers | Sequences |
| --- | --- |
| H6HAFU | CAAAAGCAGGGGAAAATGAT |
| H6HAFL | GTAGAAACAAGGGTGTTTTTYTCTAA |
| N1NAU | CAAAATGAATCCAAATCAGAAGA |
| N1NAL | TTTTTTGAACAAACTACTTGTCAA |
| N2NAU | AGCAAAAGCAGGAGTAAAAATG |
| N2NAL | AGTAGAAACAAGGAGTTTTTTCTAAA |
Genetic and phylogenetic analyses
Nucleotide sequences were edited using the SeqMan module of the DNASTAR package, and multiple sequence alignments were compiled using Clustal W [
22
–
24
]. Phylogenetic analyses were performed with the neighbour-joining method with maximum likelihood trees using MEGA 6.0 software [
25
,
26
]. Bootstrap values of 1,000 were used. The phylogenetic analyses were based on the following coding sequences (nucleotides): polymerase PB2 (PB2), 1 to 2280; polymerase PB1 (PB1), 1 to 2274; polymerase PBA (PA), 1 to 2151; hemagglutinin (HA), 1 to 1701; nucleoprotein (NP), 1 to 1497; neuraminidase (NA), 1 to 1410; matrix protein 1 (M), 1 to 982; and non-structural protein 1 (NS), 1 to 844.
Mouse studies
The 50% egg infection dose (EID 50) was calculated according to the protocol of Reed and Muench. Six-week-old female BALB/c mice (Experimental Animal Centre of Vital River, Beijing, China) were randomly divided into four infection groups (8 mice/group) and one control group (5 mice/group). Animals in the infection groups were mildly anesthetized with dry ice and infected by intranasal inoculation with a dose of 10 6 EID 50 (50 μl/mouse). Three of the eight mice were randomly euthanized on day 3 post inoculation (p.i.) for titration of virus from the lungs, nasal turbinate, kidneys, spleen, and brain. The remaining five mice were monitored daily for 2 weeks for changes in body weight and mortality.
Results
Discussion
In recent years, several AIV subtypes have been circulating and evolving in southern China; these include the H5, H9, and H6 subtypes as well as the newly emerged H7N9 and H10N8 viruses. This has led to frequent avian influenza outbreaks in poultry and humans. Anhui Province is located in south-eastern China (29°41′to 34°38′N, 114°54′to 119°37′E). Lying in the middle and lower valleys of the Yangtze and HuaiHe rivers, Anhui is abundant in wetlands, with wetland areas accounting for 21% of the total area of the province. These areas provide important stopover and wintering grounds for birds migrating along the East Asia-Australia migratory flyway. In the fall and winter of each year, a large number of migratory birds gather in the wetlands, resulting in extremely high population densities of the same or different species, which likely favours the spread and viral gene reassortment of the influenza virus. As an important agricultural province, Anhui is also home to a great number of poultry raised under different farming practices. These poultry often come into close contact with wild birds, creating the opportunity for cross-species AIV transmission.
In 2 years of surveillance work in Anhui, we obtained 31 AIV strains from 2970 faecal samples. Among these strains, eight subtype combinations, including H1N1, H1N2, H3N3, H3N8, H6N1, H6N2, H9N2, and H11N9, were identified using HA-HI tests and PCR. The H6 subtype accounted for the largest proportion of those identified, being found in approximately 41.9% (13/31) of the samples. H6N2 accounted for the majority of these H6 AIVs (10/13). Overall, the goal of this work was to obtain baseline information regarding the epidemiological and virological characteristics of H6 virus strains that exist in wild waterfowl. Toward this aim, we assessed 13 strains of H6 virus isolated from faecal samples of bean goose (Anser fabalis) in Anhui Province, China in 2014.
Conclusion
The H5, H6, and H9 subtypes of influenza A virus are found worldwide. Although it is known that H6 AIV strains found in poultry pose a potential threat to humans, few studies have surveyed this subtype in infected wild birds, and its threat to humans is therefore not well understood. In the present study, we performed a risk assessment of H6 influenza A virus transmission using phylogenetic and pathogenic analyses to better understand the potential threat of wild birds, especially migratory birds, transmitting influenza virus to poultry and/or humans. In doing so, we identified 13 strains of H6 AIV in Anseriformes. Some of these strains were reassortment from the Eurasian and North American lineages. Overall, we conclude that H6 AIV strains isolated from wild birds have the potential to infect mammals and humans.
Acknowledgments
We are grateful for the technical support and staff of related laboratories in the Natural Conservation & Management Station of Anhui Province.
Funding
This research was supported by the National Key National Key Research and Development Program of China(2016YFD0500201) and the Surveillance of Wildlife Diseases Department from the State Forestry Administration of China.
Availability of data and materials
Data supporting the conclusions of this article are presented in the manuscript.
Authors' contributions
This study is a result of collaborative work. YG participated in data collection, conceiving the study design, and drafting the manuscript. QY and SC worked on isolating viruses. XW and ZF participated in sample collection. HChen provided equipment used for the study. JM worked on data analysis. HChai participated in discussions and modified the manuscript. GD provided equipment used for the study as well as funding support. YH participated in study design, made suggestions throughout the study, revised the manuscript and provided funding. All authors read and approved the final manuscript.
Competing interests
The authors declare that their work was conducted in the absence of any commercial or financial relationships that could be construed as a potential conflict of interest.
Consent for publication
Not applicable.
Ethics approval
This study was carried out in strict accordance with the recommendations in the Guide for the Care and Use of Laboratory Animals of the Ministry of Science and Technology of the People's Republic of China. General animal care was provided as required by the Institutional Animal Care and Use Committee (approval number BRDW-XBS-14 for mice) [
17
,
45
].
Open Access
This article is distributed under the terms of the Creative Commons Attribution 4.0 International License (
http://​creativecommons.​org/​licenses/​by/​4.​0/​
), which permits unrestricted use, distribution, and reproduction in any medium, provided you give appropriate credit to the original author(s) and the source, provide a link to the Creative Commons license, and indicate if changes were made. The Creative Commons Public Domain Dedication waiver (
http://​creativecommons.​org/​publicdomain/​zero/​1.​0/​
) applies to the data made available in this article, unless otherwise stated.