01.12.2015 | Research article | Ausgabe 1/2015 Open Access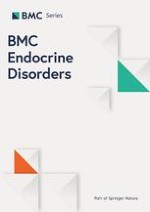 New insight into ectopic thyroid glands between the neck and maxillofacial region from a 42-case study
Zeitschrift:
Autoren:

Ting Gu, Boren Jiang, Ningjian Wang, Fangzhen Xia, Lizhen Wang, Aichun Gu, Feng Xu, Yongshun Han, Qin Li, Yingli Lu
Wichtige Hinweise
Ting Gu, Boren Jiang and Ningjian Wang contributed equally to this work.
Competing interests
The authors of this manuscript have no competing interests to report.
Authors' contributions
Prof. YL had full access to all of the data in the study and takes responsibility for the integrity of the data and the accuracy of the data analysis. Study concept and design: YL, TG, BJ, NW. Data collection and statistical analyses: TG, BJ, NW, FX, LW, AG, FX, YH, QL. Drafting of the manuscript: TG, BJ. Study supervision and funding management: YL, TG. All authors read and approved the final manuscript.
Authors' information
Not applicable.
Abstract
Background
Ectopic thyroid is a rare disease. In the present study at the 9th People's Hospital in Shanghai, China, 42 patients' ectopic thyroid glands between the neck and maxillofacial region were subjected to a retrospective and transverse study based on data from 1978 to 2012 to explore the natural characteristics of ectopic thyroid.
Methods
The patients' clinical data were collected. In addition, scintigraphy (Tc-99 m, Iodine-131), CT scan, histology and pathology were performed. The protein expression of thyroid transcription factor-1 (TTF-1), thyroglobulin (TG), calcitonin (CT), Ki-67 and parathyroid hormone (PTH) were analyzed from paraffin wax-stored specimens of ectopic thyroid tissue compared with those of orthotopic thyroid tissue.
Results
There were 42 total ectopic thyroid patients, approximately 1.24 patients per year on average at our hospital. These patients were aged from 6 to 85 years old, and there were 35 females (83.3 %), seven males (16.7 %). In total, 27 of the patients had lingual thyroid (64 %); seven, sublingual thyroid (17 %); five, dual areas occupied by ectopic thyroid (12 %) and three, other types (7 %). The following conditions were also presented: nodular goiter (13 %), adenoma (8.7 %) and Hashimoto's thyroiditis (4.3 %), no malignancy and no accompanying ectopic parathyroid. TTF-1 expression was significantly higher in ectopic samples than that in orthotopic samples (
P
 = 0.007), but CT and Ki-67 levels displayed no difference. PTH was negative in ectopic tissue.
Conclusion
Ectopic thyroid is a rare disease and females were more prone to the disease. The most frequent location was lingual thyroid. Nodular goiter, adenoma and Hashimoto's thyroiditis was observed as orthotopic thyroid without accompanying ectopic parathyroid. TTF-1 was highly expressed in ectopic tissue, which may be related to abnormal embryogenesis leading to the thyroid gland being in an abnormal position. The expression of calcitonin (CT) and Ki-67 was not increased, and there were no malignant cells in any sample, which could indicate that it is not easy for ectopic thyroids to become malignant between the neck and maxillofacial region.