27.02.2019 | KNEE | Ausgabe 7/2019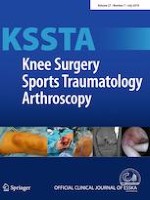 New mobile-bearing TKA with unique ball and socket post-cam mechanism offers similar function and stability with better prosthesis fit and gap balancing compared to an established fixed-bearing prosthesis
Zeitschrift:
Autoren:

Vivek Tiwari, Prashant Meshram, Chang Kyu Park, Vivek Bansal, Tae Kyun Kim
Wichtige Hinweise
Vivek Tiwari and Prashant Meshram contributed equally to this work and must be considered as first authors.
Publisher's Note
Springer Nature remains neutral with regard to jurisdictional claims in published maps and institutional affiliations.
Abstract
Purpose
A mobile-bearing (MB) posterior-stabilized total knee arthroplasty (TKA) system with ball and socket post-cam mechanism has been developed with the aims of better prosthesis fit and enhanced stability. However, the data are limited to compare its clinical outcomes with an already established fixed-bearing (FB) implant design.
Methods
This is a prospective randomized study comparing 260 patients in the MB group and 133 patients in FB group with a minimum 2 years of follow-up. Intraoperative variables, post-operative functional outcomes and incidence of adverse events were compared.
Results
MB group showed better prosthesis fit as the incidence of over-hang of femoral component at junction (medial: 1% vs. 5% and lateral: 2% vs 4%,
p
 < 0.001) and trochlea (medial: 2% vs 30%,
p
 = 0.042 and lateral: 13% vs 21%,
p
 = 0.015) was less than FB group. MB group also showed better gap balancing as the incidence of medio-lateral gap difference more than 2 mm was less in flexion (2.3% vs. 16%,
p
 < 0.001) and extension (3.1% vs. 9.8%,
p
 = 0.005). Post-operative functional outcomes and incidence of adverse events showed no difference between the two groups at 2 years.
Conclusions
New MB design offers similar functional outcomes and stability along with better intraoperative prosthesis fit and gap balancing compared to an established fixed-bearing design. Hence, this new MB design could be an alternative prosthesis of choice for posterior-stabilized TKA.