01.12.2014 | Research article | Ausgabe 1/2014 Open Access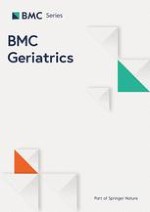 New potential determinants of disability in aged persons with myocardial infarction: results from the KORINNA-study
Zeitschrift:
Autoren:

Philip Andrew Quinones, Hildegard Seidl, Rolf Holle, Bernhard Kuch, Christa Meisinger, Matthias Hunger, Inge Kirchberger
Wichtige Hinweise
Competing interests
The authors declare that they have no competing interests.
Authors' contributions
PAQ developed the study question, performed all data analyses and drafted the manuscript. HS prepared the data sets performed plausibility checks and variable transformations. CM, IK, RH and HS developed the complete KORINNA study design and data assessment. MH was advisor for statistical methods. IK was general counselor and advisor. All authors reviewed and revised preliminary manuscript drafts and approved the final manuscript.
Abstract
Background
Elderly individuals with coronary heart disease are a population particularly burdened by disability. However, to date many predictors of disability established in general populations have not been considered in studies examining disability in elderly acute myocardial infarction (AMI) survivors. Our study explores factors associated with the ability to perform basic activities of daily living in elderly patients with AMI.
Methods
Baseline data from 333 AMI-survivors older than 64 years included within the randomized controlled KORINNA-study were utilized to examine disability assessed by the Stanford Health Assessment Questionare Disability Index (HAQ-DI). Numerous potential determinants including demographic characteristics, clinical parameters, co-morbidities, interventions, lifestyle, behavioral and personal factors were measured.
Disability was defined as a HAQ-DI ≥ 0.5. After bi-variate testing the probability of disability was modeled with logistic regression. Missing covariate values were imputed using a Markov Chain Monte Carlo method.
Results
Disability was significantly more frequent in older individuals (Odds Ratio (OR): 1.10, 95% Confidence Interval (CI): 1.05-1.16), patients with deficient nutrition (OR: 3.38, 95% CI: 1.60-7.15), coronary artery bypass graft (CABG) (OR: 3.26, 95% CI: 1.29-8.25), hearing loss in both ears (OR: 2.85, 95% CI: 1.41-5.74), diabetes mellitus (OR: 2.56, 95% CI: 1.39-4.72), and heart failure (OR: 3.32, 95% CI: 1.79-6.16). It was reduced in patients with percutaneous transluminal coronary angioplasty (PTCA) (OR: 0.41, 95% CI: 0.21-0.80) and male sex (OR: 0.48, 95% CI: 0.27-0.85).
Conclusions
Effects of nutrition, hearing loss, and diametrical effects of PTCA and CABG on disability were identified as relevant for examination of causality in longitudinal trials.
Trial registration