01.12.2017 | Research article | Ausgabe 1/2017 Open Access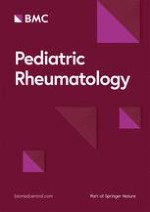 Next Generation Sequencing identifies mutations in GNPTG gene as a cause of familial form of scleroderma-like disease
Zeitschrift:
Autoren:

Abdelali Zrhidri, Saadia Amasdl, Jaber Lyahyai, Hanane Elouardi, Bouchra Chkirate, Laure Raymond, Grégory Egéa, Mohamed Taoudi, Said El Mouatassim, Abdelaziz Sefiani
Abstract
Background
Scleroderma is a multisystem disease, characterized by fibrosis of skin and internal organs, immune dysregulation, and vasculopathy. The etiology of the disease remains unknown, but it is likely multifactorial. However, the genetic basis for this condition is defined by multiple genes that have only modest effect on disease susceptibility.
Methods
Three Moroccan siblings, born from non-consanguineous Moroccan healthy parents were referred for genetic evaluation of familial scleroderma. Whole Exome Sequencing was performed in the proband and his parents, in addition to Sanger sequencing that was carried out to confirm the results obtained.
Results
Mutation analysis showed two compound heterozygous mutations c.196C>T in exon 4 and c.635_636delTT in exon 9 of
GNPTG
gene. Sanger sequencing confirmed these mutations in the affected patient and demonstrated that their parents are heterozygous carriers.
Conclusion
Our findings expand the mutation spectrum of the
GNPTG
gene and extend the knowledge of the phenotype–genotype correlation of Mucolipidosis Type III gamma. This report also highlights the diagnostic utility of Next Generation Sequencing particularly when the clinical presentation did not point to specific genes.