01.12.2018 | Research article | Ausgabe 1/2018 Open Access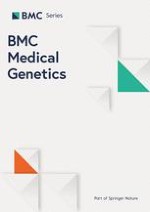 Next-generation sequencing reveals a new mutation in the
LTBP2

gene associated with microspherophakia in a Spanish family
Zeitschrift:
Autoren:

Laura Alías, Jaume Crespi, Lidia González-Quereda, Jesús Téllez, Elisabeth Martínez, Sara Bernal, Ma Pia Gallano
Abstract
Background
Microspherophakia is a rare autosomal recessive eye disorder characterized by small spherical lens. It may present as an isolated finding or in association with other ocular and/or systemic disorders. This clinical and genetic heterogeneity requires the study of large genes (
ADAMTSL4, FBN1, LTBP2, ADAMTSL-10
and
ADAMTSL17
). The purpose of the present study is to identify the genetic cause of this pathology in a consanguineous Spanish family.
Methods
A clinical exome sequencing experiment was executed by the
TruSight One
®
Sequencing Panel
(TSO) from Illumina©. Sanger sequencing was used to validate the NGS results.
Results
Only the insertion of an adenine in exon 36 of the
LTBP2
gene (c.5439_5440insA) was associated with pathogenicity. This new mutation was validated by Sanger sequencing and segregation analysis was also performed. Haplotype analyses using the polymorphic markers
D
14
S
1025,
D14S43
and
D14S999
close to the
LTBP2
gene indicated identity by descent in this family.
Conclusion
We describe the first case of a microspherophakia phenotype associated with a novel homozygous mutation in the
LTBP
2 gene in a consanguineous Caucasian family by means of NGS technology.