01.12.2018 | Research article | Ausgabe 1/2018 Open Access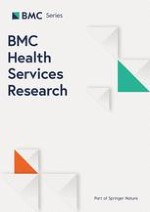 Next-of-kin involvement in improving hospital cancer care quality and safety – a qualitative cross-case study as basis for theory development
Zeitschrift:
Autoren:

Inger Johanne Bergerød, Bjørnar Gilje, Geir S. Braut, Siri Wiig
Abstract
Background
Next-of-kin are an extension of healthcare professionals in all stages of cancer care. They offer care activities such as interpretations of symptoms, and reporting of negative or adverse effects of treatment, without any professional knowledge or skills. Their participation is often expected from healthcare professionals, managers, or the patient. However, there is limited knowledge of next-of-kin's role in and contribution to quality and safety improvement in hospital cancer care. The aim of this study was to explore how managers and healthcare professionals understand the role of next-of-kin in cancer care, and what methods they use for next-of-kin involvement.
Methods
The study design was a comparative multiple embedded case study of cancer departments in two Norwegian university hospitals. Data collection methods consist of qualitative interviews with managers (13) and healthcare professionals (19) collected in 2016, and document analysis of policy documents and regulation. The interviews were analyzed according to a directed content analysis approach guided by the theoretical framework 'Organizing for Quality'.
Results
Both hospitals have a strategy to involve next-of-kin in treatment and care but have no formal way of doing so. Managers and healthcare professionals in the two hospitals illuminated nine areas where next-of-kin are important stakeholders in improving quality and safety. These nine areas (e.g. nutrition, observations, transitions, pain treatment, information, palliative and terminal care) are common across the two hospitals. Key challenges in the next-of-kin involvement pertain to insufficient physical working conditions and room facilities, and lack of continuity of experienced nurses and consultants.
Conclusion
Hospital employees and managers regard next-of-kin as a safety net or a buffer that cannot be replaced by other stakeholders. This study shows a close collaboration between patient, next-of-kin and healthcare professionals in cancer care, but more effort should be invested in more systematic approaches for next-of-kin involvement in quality and safety improvement such as a guide for managers and healthcare professionals on methods and areas of involvement.