01.09.2013 | Original Research | Ausgabe 3/2013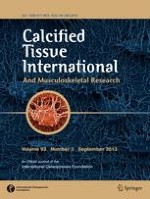 Ninety-One Osteoporosis Patients Affected with Bisphosphonate-Related Osteonecrosis of the Jaw: A Case Series
Zeitschrift:
Autoren:

E. Mercer, T. Norton, S. Woo, N. Treister, T. B. Dodson, D. H. Solomon
Wichtige Hinweise
E. Mercer and T. Norton contributed equally to this work.
D. H. Solomon has received research grants unrelated to this manuscript from Amgen and Eli Lilly. All other authors have stated no conflict of interest.
Abstract
Bisphosphonate (BP)-related osteonecrosis of the jaw (BRONJ) presents with necrotic bone in the mouth in the setting of BP exposure. It has been studied in cancer patients taking high-dose BP, but BRONJ has also been noted in patients taking lower-dose BP for osteoporosis. The purpose of this study was to characterize the phenotypes and outcomes in a large series of patients with osteoporosis and BRONJ in the setting of BP exposure. We conducted a retrospective case series. The sample was composed of subjects with BRONJ and osteoporosis. Subjects with a history of BP treatment for myeloma or metastatic cancer to the bones were excluded. Descriptive statistics were computed for the study variables. Ninety-one cases of BRONJ met the inclusion criteria. Subjects had a median age of 71 years and were predominantly female (94.5 %). The median time of BP exposure was 60 months (range 2–120). Most subjects were treated with alendronate (82.4 %). The mandible was involved more frequently (58.2 %) than the maxilla (37.3 %). Subjects commonly (65.9 %), but not universally, reported pain. For subjects with treatment outcome data (
n
= 0), most reported improvement (80.0 %). Although BRONJ is an uncommon condition, the absolute number of cases is fairly large due to the very large number of patients taking BPs for osteoporosis. The findings of this study confirm that BRONJ primarily affects the mandible, a substantial minority present without pain, and patients typically improve with treatment.