01.09.2009 | Original Paper | Ausgabe 3/2009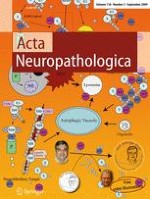 Nitrosative stress and inducible nitric oxide synthase expression in periventricular leukomalacia
Zeitschrift:
Autoren:

Robin L. Haynes, Rebecca D. Folkerth, Felicia L. Trachtenberg, Joseph J. Volpe, Hannah C. Kinney
Abstract
Periventricular leukomalacia (PVL) is a lesion of the immature cerebral white matter in the perinatal period and associated predominantly with prematurity and cerebral ischemia/reperfusion as well as inflammation due to maternofetal infection. It consists of focal necrosis in the periventricular region and diffuse gliosis with microglial activation and premyelinating oligodendrocyte (pre-OL) injury in the surrounding white matter. We previously showed nitrotyrosine in pre-OLs in PVL, suggesting involvement of nitrosative stress in this disorder. Here we hypothesize that inducible nitric oxide synthase (iNOS) expression is increased in PVL relative to controls. Using immunocytochemistry in human archival tissue, the density of iNOS-expressing cells was determined in the cerebral white matter of 15 PVL cases [29–51 postconceptional (PC) weeks] and 16 control cases (20–144 PC weeks). Using a standardization score of 0–3, the density of iNOS-positive cells was significantly increased in the diffuse component of PVL (score of 1.8 ± 0.3) cases compared to controls (score of 0.7 ± 0.3) (
P
= 0.01). Intense iNOS expression occurred in reactive astrocytes in acute through chronic stages and in activated microglia primarily in the acute stage, suggesting an early role for microglial iNOS in PVL's pathogenesis. This study supports an important role for iNOS-induced nitrosative stress in the reactive/inflammatory component of PVL.