01.12.2017 | Study protocol | Ausgabe 1/2017 Open Access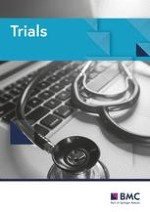 Nitrous oxide (N2O) and subsequent open-label SSRI treatment of adolescents with depression (NOTAD): study protocol for a randomised controlled trial
Zeitschrift:
Autoren:

Richard M. Stewart, Janice W. Y. Wong, Kevin C. Runions, Pradeep Rao, Julia K. Moore, Simon R. Davies, Britta S. von Ungern-Sternberg, David Sommerfield, Florian Daniel Zepf
Wichtige Hinweise
Electronic supplementary material
The online version of this article (doi:
10.​1186/​s13063-017-2342-4
) contains supplementary material, which is available to authorized users.
Abstract
Background
The first line of pharmacological treatment for severe depressive disorders in young people is selective serotonin reuptake inhibitors (SSRIs). However, beneficial clinical effects are rarely observed before several weeks into treatment. Nitrous oxide (N2O) has a long-standing safety record for pain relief and has been used in adults and young people. In adults with severe treatment-resistant depression, a single dose of N2O had significant antidepressant effects, with maximum antidepressant effects observed 24 h after administration. However, the antidepressant effects of N2O have never been investigated in adolescents with a confirmed diagnosis of depression in a prospective trial. The aims of this study are to (1) investigate whether a single inhaled N2O administration leads to antidepressant effects in adolescents with depression at 24 h, (2) determine whether combined N2O and SSRI administration (commenced after N2O intervention) provides a clinically significant improvement in mood over and above the benefits from SSRI administration alone, and, (3) investigate whether the effect seen following N2O administration can be used as a predictor of SSRI treatment response.
Methods/design
In this study, we will use a single-blind, randomised, placebo-controlled design. Patients aged between 12 and 17 years with major depressive disorder will be recruited. This study will consist of two phases: phase A and phase B. During phase A, participants will be randomised to receive either inhaled N2O or placebo (air) for 1 h. In phase B, participants will receive open-label pharmacological treatment with the SSRI fluoxetine and will be followed over a 12-week period. Participants will undertake mood assessments at 2 and 24 h after N2O or placebo administration (phase A) and weekly during the 12-week follow up in phase B.
Discussion
We expect an antidepressant effect from a single dose of inhaled N2O compared with placebo at 24 h after administration. Additionally, we expect that subjects treated with N2O will also show greater improvements than the placebo group after 6 and 12 weeks into fluoxetine treatment because of potential additive antidepressant effects. Such findings would be of clinical importance because currently children and adolescents often do not experience any symptom alleviation for several weeks following the initiation of SSRIs.
Trial registration
Australian and New Zealand Clinical Trials Registry,
ACTRN12616001568​404
. Registered on 14 November 2016.