01.12.2018 | Research article | Ausgabe 1/2018 Open Access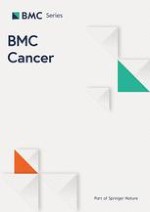 NKX2.5 is expressed in papillary thyroid carcinomas and regulates differentiation in thyroid cells
Zeitschrift:
Autoren:

Ricardo Cortez Cardoso Penha, Luisa Aguirre Buexm, Fabiana Resende Rodrigues, Taciana Padilha de Castro, Maria Carolina S. Santos, Rodrigo Soares Fortunato, Denise P. Carvalho, Luciene C. Cardoso-Weide, Andrea C. F. Ferreira
Wichtige Hinweise
Electronic supplementary material
Abstract
Background
NKX2.5 is a transcription factor transiently expressed during thyroid organogenesis. Recently, several works have pointed out the oncogenic role of NKX2.5 in a variety of tumors. We therefore hypothesized that NKX2.5 could also play a role in thyroid cancer.
Methods
The validation of NKX2.5 expression was assessed by immunohistochemistry analysis in a Brazilian case series of 10 papillary thyroid carcinoma (PTC) patients. Then, the long-term prognostic value of NKX2.5 and its correlation with clinicopathologic features of 51 PTC patients was evaluated in a cohort with 10-years follow-up (1990–1999). Besides, the effect of NKX2.5 overexpression on thyroid differentiation markers and function was also investigated in a non-tumor thyroid cell line (PCCL3).
Results
NKX2.5 was shown to be expressed in most PTC samples (8/10, case series; 27/51, cohort). Patients who had tumors expressing NKX2.5 showed lower rates of persistence/recurrence (
p
 = 0.013). Overexpression of NKX2.5 in PCCL3 cells led to: 1) downregulation of thyroid differentiation markers (thyrotropin receptor, thyroperoxidase and sodium-iodide symporter); 2) reduced iodide uptake; 3) increased extracellular H
2
O
2
generation, dual oxidase 1 mRNA levels and activity of DuOx1 promoter.
Conclusions
In summary, NKX2.5 is expressed in most PTC samples analyzed and its presence correlates to better prognosis of PTC. In vitro, NKX2.5 overexpression reduces the expression of thyroid differentiation markers and increases ROS production. Thus, our data suggests that NKX2.5 could play a role in thyroid carcinogenesis.