01.12.2017 | Case study | Ausgabe 1/2017 Open Access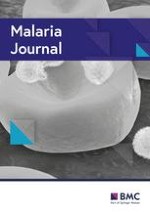 No impact of strongylid infections on the detection of
Plasmodium

spp. in faeces of western lowland gorillas and eastern chimpanzees
Zeitschrift:
Autoren:

Mwanahamisi I. Mapua, Barbora Pafčo, Jade Burgunder, Ilona Profousová-Pšenková, Angelique Todd, Chie Hashimoto, Moneeb A. Qablan, David Modrý, Klára J. Petrželková
Wichtige Hinweise
Mwanahamisi I. Mapua and Barbora Pafčo contributed equally to the study
Abstract
Background
Although a high genetic diversity of
Plasmodium
spp. circulating in great apes has been revealed recently due to non-invasive methods enabling detection in faecal samples, little is known about the actual mechanisms underlying the presence of
Plasmodium
DNA in faeces. Great apes are commonly infected by strongylid nematodes, including hookworms, which cause intestinal bleeding. The impact of strongylid infections on the detection of
Plasmodium
DNA in faeces was assessed in wild, western, lowland gorillas from Dzanga Sangha Protected Areas, Central African Republic and eastern chimpanzees from Kalinzu Forest Reserve, Uganda.
Methods
Fifty-one faecal samples from 22 habituated gorillas and 74 samples from 15 habituated chimpanzees were analysed using Cytochrome-b PCR assay and coprological methods.
Results
Overall, 26.4% of the analysed samples were positive for both
Plasmodium
spp. and strongylids. However, the results showed no significant impact of intensity of infections of strongylids on detection of
Plasmodium
DNA in gorilla and chimpanzee faeces.
Conclusion
Bleeding caused by strongylid nematode
Necator
spp. cannot explain the presence of
Plasmodium
DNA in ape faeces.