01.04.2015 | Clinical Research | Ausgabe 4/2015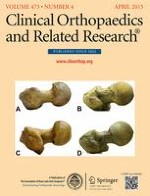 No Sex Differences Exist in Posterior Condylar Offsets of the Knee
Zeitschrift:
Autoren:

MD Pramod B. Voleti, MD Jason W. Stephenson, MD Paul A. Lotke, MD Gwo-Chin Lee
Wichtige Hinweise
Each author certifies that he or she, or a member of his or her immediate family, has no funding or commercial associations (eg, consultancies, stock ownership, equity interest, patent/licensing arrangements, etc) that might pose a conflict of interest in connection with the submitted article.
All ICMJE Conflict of Interest Forms for authors and
Clinical Orthopaedics and Related Research
editors and board members are on file with the publication and can be viewed on request.
Each author certifies that his or her institution approved or waived approval for the human protocol for this investigation and that all investigations were conducted in conformity with ethical principles of research.
This work was performed at the Department of Orthopaedic Surgery, University of Pennsylvania, Philadelphia, PA, USA.
Abstract
Background
Restoration of posterior condylar offset during TKA is believed to be important to improving knee kinematics, maximizing ROM, and minimizing flexion instability. However, controversy exists regarding whether there are important anatomic differences between sexes and whether a unisex knee prosthesis can restore the anatomy of knees in males and females.
Questions/purposes
The purposes of our study were to determine if sex differences exist in (1) absolute posterior condylar offset size, (2) relative posterior condylar offset size in relation to total condylar height, and (3) posterior condylar articular cartilage thickness.
Methods
We identified 100 patients (50 men and 50 women) without a history of arthritis, deformity, dysplasia, osteochondral defect, fracture, or surgery about the knee who had MRI of the knee performed. All MR images were ordered by primary care medical physicians for evaluation of nonspecific knee pain. Using a previously described three-dimensional MRI protocol, we measured posterior condylar offset, total condylar height, and articular cartilage thickness at the medial and lateral femoral condyles and compared values to evaluate for potential sex differences. We performed an a priori power calculation using a 2-mm posterior condylar offset difference as the minimum clinically important difference; with 2n = 100, our power to detect such a difference was 99.8%.
Results
Compared with females, males had greater medial posterior condylar offset (30 mm [95% CI, 29.3–30.7 mm; SD, 2.5 mm] vs 28 mm [95% CI, 27.0–28.5 mm; SD, 2.7 mm]), lateral posterior condylar offset (27 mm [95% CI, 26.2–27.3 mm; SD, 2.0 mm] vs 25 mm [95% CI, 24.2–25.4 mm; SD, 2.0 mm]), medial condylar height (63 mm [SD, 3.2 mm] vs 57 mm [SD, 4.4 mm]), and lateral condylar height (71 mm [SD, 5.2 mm] vs 65 mm [SD: 4.0 mm]) (all p values < 0.001). However, the mean ratio of medial posterior condylar offset to medial condylar height (0.48 [SD, 0.04] vs 0.49 [SD, 0.05]) and the mean ratio of lateral posterior condylar offset to lateral condylar height (0.38 [SD, 0.05] vs 0.38 [SD, 0.03]) were not different between sexes (p = 0.08 and p = 0.8, respectively). There also was no sex difference in mean articular cartilage thickness at either condyle (medial condyle: 2.7 mm [SD, 0.5 mm] vs 2.5 mm [SD, 0.7 mm]; lateral condyle: 2.6 mm [SD, 0.6 mm] vs 2.5 mm [SD, 0.8 mm]) (both p values ≥ 0.1).
Conclusions
Results of our study showed that knees in males exhibited greater posterior condylar offset and greater total condylar height at the medial and lateral femoral condyles, however, there were no sex differences in the ratio of posterior condylar offset to condylar height at either condyle.
Clinical Relevance
These findings suggest that a unisex knee prosthesis design is adequate to recreate the normal posterior condylar offsets for men and women.