07.02.2018 | Original Article | Ausgabe 2/2018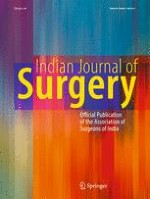 Non-fixation Versus Fixation of Mesh in Totally Extraperitoneal Repair of Inguinal Hernia: a Comparative Study
Zeitschrift:
Autoren:

Ameet Kumar, Sumesh Kaistha, Rajesh Gangavatiker
Abstract
Two major issues with laparoscopic inguinal hernia (IH) repair are recurrences and chronic groin pain (CGP). The procedure involves fixing the mesh with the tackers which is believed to increase the rate of CGP due to nerve injuries. Thus, non-fixation of mesh is being proposed but concerns remain regarding increased recurrences. We sought to look at our outcomes after we switched over to non-fixation of mesh in totally extraperitoneal repair (TEP). Retrospective review of prospectively maintained database of 171 repairs was done on 122 patients (fixation 59 and non-fixation 112) during a period of 4 years with an endeavor to complete a minimum of 1 year of clinical follow-up. The primary objective was to assess the recurrence rates and CGP and the secondary objective was to assess operative times, immediate post-op pain, incidence of urinary retention, duration of hospital stay, days taken to return to activity, and cost. The mean operative times for unilateral IH for the fixation and non-fixation groups were 41.8 ± 11.4 and 35.9 ± 9.7 min, respectively (
p
 = 0.021), whereas for bilateral were 66.2 ± 15.6 and 55.3 ± 14.2 min, respectively (
p
 = 0.018). The mean pain score was 3.44 ± 1.2 versus 3.01 ± 1.0; (
p
 = 0.037) in the two groups, respectively. At a mean follow-up of 33.2 ± 17.0 and 18.7 ± 6.2 months, the incidence of CGP was 02 (3.4%) and 3 (2.7%) (
p
 = 1.000) and recurrences were 02 (3.4%) in the two groups, respectively (
p
 = 0.118). Non-fixation of mesh in TEP does not lead to increased recurrence though it does not decrease the incidence of chronic groin pain. Collateral advantage would be decreased operative times, lesser post-operative pain, and decreased costs.