01.12.2018 | Non-Hodgkin-Lymphome | Case report | Ausgabe 1/2018 Open Access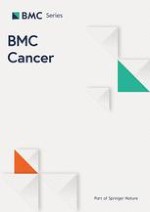 Chronic active Epstein-Barr virus infection of T-cell type, systemic form in an African migrant: case report and review of the literature on diagnostics standards and therapeutic options
Zeitschrift:
Autoren:

Maxi Wass, Marcus Bauer, Roald Pfannes, Kerstin Lorenz, Andreas Odparlik, Lutz P Müller, Claudia Wickenhauser
Wichtige Hinweise
Maxi Wass and Marcus Bauer contributed equally to this work.
Abstract
Background
Chronic active Epstein-Barr virus (EBV) infection (CAEBV) of the T-/NK-cell type, systemic form is a rare and potentially life-threatening illness caused by persistent EBV infection. The highest incidence is found in children and adolescents with increased frequency among Asians and Native Americans, while the disease is uncommon in Western countries. Typically patients present with unspecific symptoms, like fever, lymphadenopathy, hepatosplenomegaly and liver dysfunction. Due to fatal complications including hemophagocytic syndrome, coagulopathy, multiple organ failure and development of EBV-positive lymphoproliferative disease (LPD) or lymphoma early diagnosis is critical for successful treatment. However, in consequence of the lack of experience due to the low incidence in Europe, a broad spectrum of clinical manifestations and a particularly unexpected group of patients, diagnosis can be challenging. Inhere we describe the clinicopathological findings of an African adult with CAEBV associated LPD with a brief review of the literature.
Case presentation
A 42-year-old African man with fever, enlargement of the spleen and a suspected epileptic seizure was referred to our hospital. Diagnostic testing repeatedly revealed a massive EBV-DNA load in peripheral blood. Whole-body PET-CT-scan presented a strong uptake at multiple bone marrow sites, the thyroid and the adrenal glands. Histopathological analysis of bone marrow and thyroid gland revealed a highly proliferating, atypical and predominantly intravascular cytotoxic T-cell population with intracellular EBV-encoded RNA. Clonality analysis revealed the presence of polyclonal T-cell-receptor. Based on these findings a CAEBV of the T-/NK-cell type, systemic form was diagnosed. Subsequent therapy including three cycles of chemotherapy with cyclophosphamide, doxorubicin, vincristine and prednisolone resulted in decreased EBV load, clinical improvement and ongoing complete remission.
Conclusion
Adult-onset CAEBV of T/NK-cell type usually comprises a poor prognosis and is extremely rare in Western countries. Therefore, our case highlights the need for a clinical awareness of this disease in patients with systemic illness and for a comprehensive multidisciplinary diagnostic approach to facilitate diagnosis. Treatment options include antiviral drugs, immunosuppressive agents and systemic chemotherapy with or without allogeneic stem cell transplantation. Given the limited data these options need to be decided upon in each patient individually considering severity of the disease, comorbidities and response.