01.12.2014 | Review Article | Ausgabe 4/2014 Open Access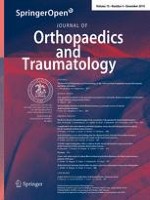 Non-operative treatment versus percutaneous fixation for minimally displaced scaphoid waist fractures in high demand young manual workers
Zeitschrift:
Autor:

Haroon Majeed
Abstract
Background
Managing minimally displaced scaphoid fractures in young individuals doing physically demanding work remains an issue of debate due to duration of immobilisation and time required off work. Therefore, early diagnosis and appropriate treatment are important to avoid short- and long-term consequences. The literature lacks the exact definition of minimally displaced scaphoid waist fractures. The objective of this review article was to discuss nonoperative and minimally invasive treatment (percutaneous screw fixation) for minimally displaced scaphoid waist fractures and to systematically review the literature, focussing on young workers with physically demanding employment.
Materials and methods
We searched for articles through the most commonly used portals using appropriate terminologies to identify the most relevant articles in the English language comparing nonoperative and percutaneous fixation methods for these fractures in patients between 16 and 40 years of age. Strict inclusion and exclusion criteria were observed.
Results
Sixty relevant published articles were found. Twenty-one of these were considered valid for inclusion and comprised five randomised controlled trials, three prospective studies, four systematic reviews, three meta-analyses, and six retrospective studies. These studies provided a reasonable account of information on the managing undisplaced and minimally displaced scaphoid waist fractures, with satisfactory clinical and statistical analysis. However, it was difficult to assess the outcomes of minimally displaced fractures in isolation. Furthermore, few of these studies relied on plain radiographs for assessing union and did not report on patients' work status.
Conclusion
Cast treatment has the disadvantages of longer immobilisation time, joint stiffness, reduced grip strength, and longer time to return to manual work. Percutaneous fixation is aimed at reducing damage to the blood supply and soft tissues, allowing early mobilisation of the wrist and early return to manual work. The best available evidence for percutaneous screw fixation versus cast treatment suggests that percutaneous fixation allows a faster time to union by 5 weeks and an earlier return to manual work by 7 weeks, with similar union rates. This systematic review indicates a potential requirement for a prospective randomised controlled trial to compare these two treatment modalities for minimally displaced scaphoid waist fractures in workers with physically demanding jobs in order to objectively assess functional outcomes, time to union and time to return to work.
Level of evidence
Level 3.