01.12.2017 | Research | Ausgabe 1/2017 Open Access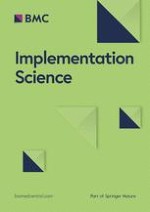 Non-participants in policy efforts to promote evidence-based practices in a large behavioral health system
Zeitschrift:
Autoren:

Rebecca E. Stewart, Danielle R. Adams, David S. Mandell, Gayatri Nangia, Lauren Shaffer, Arthur C. Evans, Ronnie Rubin, Shawna Weaver, Trevor R. Hadley, Rinad S. Beidas
Abstract
Background
System-wide training initiatives to support and implement evidence-based practices (EBPs) in behavioral health systems have become increasingly widespread. Understanding more about organizations who do not participate in EBP training initiatives is a critical piece of the dissemination and implementation puzzle if we endeavor to increase access in community settings.
Methods
We conducted 30 1-h semi-structured interviews with leaders in non-participating agencies who did not formally participate in system-wide training initiatives to implement EBPs in the City of Philadelphia, with the goal to understand why they did not participate.
Results
We found that despite not participating in training initiatives, most agencies were adopting (and self-financing) some EBP implementation. Leadership from agencies that were implementing EBPs reported relying on previously trained staff to implement EBPs and acknowledged a lack of emphasis on fidelity. Most leaders at agencies not adopting EBPs did not have a clear understanding of what EBP is. Those familiar with EBPs in agencies not adopting EBPs reported philosophical objections to EBPs. When asked about quality assurance and treatment selection, leaders reported being guided by system audits.
Conclusions
While it is highly encouraging that many agencies are adopting EBPs on their own, significant questions about fidelity and implementation success more broadly remain.