15.06.2017 | Original Paper | Ausgabe 1/2018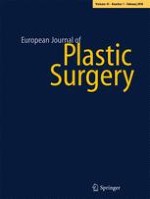 Non-surgical wound closure—a simple inexpensive technique
Zeitschrift:
Autoren:

G. S. Kalra, Manohar K. Malviya, Ghisulal M. Choudhary, Vipin K. Barala
Abstract
Background
Primary suture closure of wounds is often the optimal solution for soft tissue defect closure because of its simplicity and satisfactory outcome, yet it may be impeded by high -tension closure. The customary application of skin grafts, flaps, free tissue transfer, or tissue expansion is often associated with relatively more complex surgical reconstructive procedures, significant morbidity and extended hospitalization and prolonged recovery period.
Methods
We retrospectively investigated all patients who underwent wound closure using a mechanical wound closure device between 2014 and 2016 in a tertiary hospital center. The device consisted of stainless steel hooks, sutured over the opposite wound edges, and rubber bands for generating tension which is gradually increased. Approximated wound margins were sutured or allowed to heal by secondary intention.
Results
The mechanical device was applied in 50 patients. There were 38 males and 12 females. Wound size ranged from 3 to 25 cm. In most of the patients there was a satisfactory wound margin approximation. However, in 6 patients skin hook cut through from wound margins occurred due to excessive rubber band tension. In 5 patients, it was decided to also apply negative-pressure wound therapy along with the device. After application of the wound closure device, a residual raw area remained in other 4 patients in whom a split thickness graft was applied. During follow-up, hypertrophic scar and wound dehiscence were found in 5 patients.
Conclusions
The mechanical wound closure device herein presented is a simple and inexpensive technique that allows a significant reduction in surgical costs and surgery-related morbidity.
Level of Evidence: Level IV, therapeutic study.