05.12.2018 | Original Article | Ausgabe 5/2019 Open Access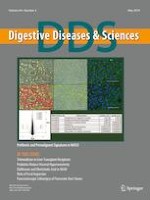 Nonalcoholic Fatty Liver Disease Demonstrates a Pre-fibrotic and Premalignant Molecular Signature
Zeitschrift:
Autoren:

Diego Almanza, Mehrnaz Gharaee-Kermani, Alisa Zhilin-Roth, Jose A. Rodriguez-Nieves, Cory Colaneri, Todd Riley, Jill A. Macoska
Wichtige Hinweise
Electronic supplementary material
Abstract
Background
Metabolic syndrome contributing to nonalcoholic fatty liver disease (NAFLD) can lead to hepatic dysfunction, steatohepatitis, cirrhosis, and hepatocellular carcinoma.
Aims
In this study, we tested whether diet-induced fatty liver in a mouse model physiologically mimicked human NAFLD, and whether transcriptional alterations in mouse fatty liver signified risk for the development of hepatitis, cirrhosis, and/or hepatocellular carcinoma.
Methods
SAMP6 strain mice were fed a low-fat diet or high-fat diet (HFD) for 6 months. Mouse livers were isolated and subjected to histology, immunohistochemistry, and whole transcriptome RNA sequencing. Sequences were aligned to the mouse reference genome, and gene expression signatures were analyzed using bioinformatics tools including Cufflinks, Pathview, Cytoscape, ClueGO, and GOstats.
Results
Consistent with NAFLD, livers from HFD-fed mice demonstrated steatosis, high levels of inflammation, an up-regulation of genes encoding proteins associated with the complement pathway and immune responses, and down-regulation of those associated with metabolic processes. These livers also showed an up-regulation of genes associated with fibrosis and malignant transformation but no histological evidence of either pathobiology or DNA damage.
Conclusions
HFD-fed mice exhibited NAFLD that had incompletely transitioned from fatty liver to NASH. Importantly, bioinformatics approaches identified pre-fibrotic and premalignant signatures, suggesting that the pathogenesis of both fibrosis and cancer may initiate in fatty livers well before associated histological changes are evident.