01.12.2015 | Case report | Ausgabe 1/2015 Open Access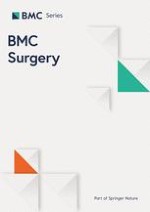 Nonfunctional adrenocortical carcinoma initially presenting as retroperitoneal hemorrhage
Zeitschrift:
Autoren:

Shinichiro Kashiwagi, Ryosuke Amano, Naoyoshi Onoda, Satoru Noda, Keiichiro Hirata, Yuka Asano, Kento Kurata, Koutaro Miura, Sadaaki Yamazoe, Kenjiro Kimura, Masahiko Ohsawa, Seiichi Kitagawa, Kosei Hirakawa
Wichtige Hinweise
Competing interests
The authors declare that they have no competing interests.
Authors' contributions
All authors were involved in the preparation of this manuscript. SKa performed the operation, collected the data, and wrote the manuscript. RA, NO, SN, and KHi performed the operation and designed the study. YA, KKu, and KM summarized the data and revised the manuscript. SY and KKi performed the operation and collected the data. MO, SKi, and KHi made substantial contributions to the study design, performed the operation, and revised the manuscript. All authors read and approved the final manuscript.
Abstract
Background
Acute adrenal hemorrhage is an uncommon entity. Although trauma is the most common cause of adrenal hemorrhage, non-traumatic etiologies have also been reported. We report an unusual case of a spontaneously ruptured adrenocortical carcinoma that initially presented as a critical massive retroperitoneal hemorrhage. The case was treated successfully using a combination of emergency interventional radiology and elective surgery.
Case presentation
A 47-year-old woman was transported to our hospital because of the sudden onset of severe pain in her left lower back. The shadow of a tumor-like soft mass accompanied by bleeding was observed in the upper pole of the left kidney, together with vascular leakage from the middle suprarenal artery on computed tomography. Transcatheter embolization of the left middle adrenal artery was administered based on a diagnosis of acute adrenal hemorrhage. Further observation indicated that the bleeding was caused by rupture of an adrenocortical carcinoma. Left adrenalectomy was subsequently carried out via laparotomy.
Conclusions
We experienced an unusual case of acute massive adrenal hemorrhage caused by the rupture of a non-functional adrenocortical carcinoma, which was treated successfully by ambulatory transcatheter embolization therapy and elective surgery.