Erschienen in: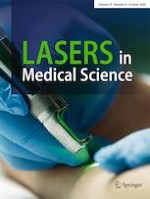 Open Access 06.05.2020 | Original Article
Nonlinear optical microscopy is a novel tool for the analysis of cutaneous alterations in pseudoxanthoma elasticum
Erschienen in: Lasers in Medical Science | Ausgabe 8/2020
Abstract
Pseudoxanthoma elasticum (PXE, OMIM 264800) is a rare autosomal recessive disorder with ectopic mineralization and fragmentation of elastin fibers. It is caused by mutations of the
ABCC6
gene that leads to decreased serum levels of inorganic pyrophosphate (PPi) anti-mineralization factor. The occurrence of severe complications among PXE patients highlights the importance of early diagnosis so that prompt multidisciplinary care can be provided to patients. We aimed to examine dermal connective tissue with nonlinear optical (NLO) techniques, as collagen emits second-harmonic generation (SHG) signal, while elastin can be excited by two-photon excitation fluorescence (TPF). We performed molecular genetic analysis, ophthalmological and cardiovascular assessment, plasma PPi measurement, conventional histopathological examination, and ex vivo SHG and TPF imaging in five patients with PXE and five age- and gender-matched healthy controls. Pathological mutations including one new variant were found in the
ABCC6
gene in all PXE patients and their plasma PPi level was significantly lower compared with controls. Degradation and mineralization of elastin fibers and extensive calcium deposition in the mid-dermis was visualized and quantified together with the alterations of the collagen structure in PXE. Our data suggests that NLO provides high-resolution imaging of the specific histopathological features of PXE-affected skin. In vivo NLO may be a promising tool in the assessment of PXE, promoting early diagnosis and follow-up.
Norbert M. Wikonkál and Márta Medvecz share senior authorship.
Publisher's note
Springer Nature remains neutral with regard to jurisdictional claims in published maps and institutional affiliations.
Introduction
Methods
Patient data
Three female and two male PXE patients with a mean age of 53.8 ± 13.1 years were included in this study. All patients were diagnosed and managed at the Department of Dermatology, Venereology and Dermatooncology, the Department of Ophthalmology, and the Heart and Vascular Center of Semmelweis University, Budapest, Hungary. Best-corrected visual acuity measurement, near vision test, slit lamp examination, fundoscopy, and optical coherence tomography (OCT) were performed in all patients. All patients underwent cardiovascular evaluation which involved detailed history taking, physical examination, electrocardiography, a comprehensive echocardiographic examination, and carotid Doppler ultrasound. Patients' data are summarized according to the Phenodex scoring proposed by Legrand et al. [
27
]. The study was approved by the local Ethics Committee in Budapest, Hungary (SE TUKEB no. 193/2017) with the requirement of written consent from all the participants.
Plasma PPi measurements
Blood samples were collected from each patient and five age- and gender-matched healthy volunteers who served as controls. Platelet-free plasma was prepared, and PPi content was determined as described by Jansen et al. [
2
]. Briefly, the blood was drawn using a 22-gauge needle into CTAD containing BD Vacutainer® tubes (Ref: 367599, Becton, Dickinson and Company, Franklin Lakes, NJ, USA), supplemented with 50 μl of 15% K3 EDTA prior to sampling. The plasma fraction was separated by centrifugation at 1000
g
4 °C for 10 min and transferred to platelet separation tubes (Centrisart I® 300.000 MW, 13279E, Sartorius, Göttingen, Germany). Platelet-free plasma was prepared at 2200 g for 30 min, 4 °C and stored at − 80 °C. PPi content of the samples was determined in an enzymatic way. First, PPi was converted to ATP in an assay containing 80 μM MgCl2, 50 mM HEPES pH 7.4, 32 mU/ml ATP sulfurylase (MO394L, New England Biolabs, Ipswich, MA, USA), and 16 μM adenosine 5′-phosphosulfate (A5508, Sigma-Aldrich, Saint Louis, MO, USA) by incubating samples/standards for 30 min at 37 °C followed by the inactivation of the enzyme at 90 °C for 10 min. In a consecutive step, ATP content was determined in a bioluminescent assay using 20 μl BacTiterGlo (G8230, Promega Madison, WI, USA) for 20-μl sample/standard. PPi concentration of plasma samples was calculated using calibration standards and corrected for initial plasma ATP concentrations.
Molecular genetic testing
Molecular analysis of the ABCC6 gene
Genomic DNA was isolated from whole blood (QIAamp blood kit, Qiagen®, Hilden, Germany) and the coding region of the
ABCC6
gene was amplified using an established protocol. Primer sequences are available upon request. Direct sequencing was performed using an Applied Biosystems 3730xl Sequencer®, with ABI PRISM BigDye Terminator Cycle Sequencing Kit (Applied Biosystems®, Foster City, CA, USA). Nucleotide numbers are derived from gDNA
ABCC6
sequences (GenBank accession no. NM_001171).
Multiplex ligation-dependent probe amplification analysis
MLPA analysis of the
ABCC6
gene was performed using the SALSA MLPA kit PO92-B3 (MRC-Holland, Amsterdam, The Netherlands) according to the manufacturer's recommendations. MLPA fragments were detected using an ABI3130XL or ABI3730XL capillary electrophoresis system (Applied Biosystems, Foster City, CA, USA) and analyzed using Coffalyser (MRC Holland, Amsterdam, The Netherlands).
Skin sample preparation and histopathology
Skin biopsies from PXE-affected not photoexposed areas of all patients and five age-matched healthy controls were collected, formalin-fixed, and paraffin-embedded. Skin sections were stained with hematoxylin and eosin (H&E), Weigert's elastic (WE), von Kossa (VK), and Van Gieson (VG) stains. WE was used to stain elastic fibers, VK to reveal CaP minerals, while collagen was stained by VG. Histopathologic evaluation was performed by an expert dermatopathologist.
NLO microscopy imaging and image processing
Separate deparaffinized, unstained sections from the same skin biopsies were prepared for NLO investigations. The utilized NLO imaging setup has been previously described [
22
,
23
]. In brief, a FemtoRose 100TUN NoTouch tunable, femtosecond pulse Ti-sapphire laser (R&D Ultrafast Lasers Ltd., Budapest, Hungary) was operated at 800-nm wavelength, delivering ~ 190 fs pulses at a ~ 76-MHz repetition rate. To focus the laser beam, a 20× water immersion objective (W-Plan – APOCHROMAT 20×/1.0 DIC (UV) VIS-IR, Carl Zeiss, Jena, Germany) was employed. A commercial Axio Examiner LSM 7 MP laser scanning two-photon microscope system (Carl Zeiss, Jena, Germany) with custom-modified detection optics was used to capture images. TPF signal was separated with a 525/50-nm bandpass emission filter, while SHG was collected using a 405/20-nm filter. Mosaic images were captured from multiple field of views (FOV) with an individual imaging area of 420 × 420 μm
2
.
The acquired TPF and SHG images were merged and composed into two-channel mosaic images with ImageJ v1.46 software (NIH, Bethesda, MD, USA). In each sample, ten representative FOV were selected for further analyses. To determine the ratio of calcification, calcium deposits were outlined, their relative surface area was measured, and the number and length of elastin fibers were counted manually using ImageJ. CT-FIRE v.13 (LOCI, University of Wisconsin – Madison, WI, USA), a curvelet-based framework designed to analyze properties of collagen fibers was customized and run on the raw SHG images to calculate length and width for single collagen fibers [
28
].
Statistical analysis
Unpaired, two-tailed Student's
t
test, Mann-Whitney's
U
test, and linear regression were used for statistical analysis using GraphPad Prism v6.0 software (GraphPad Software Inc., La Jolla, CA USA).
P
values less than 0.05 were considered statistically significant. The results are expressed as mean ± standard error.
Results
Phenodex scores can be found in Table
1
. Plasma PPi levels for PXE patients were significantly lower than for healthy controls (mean ± SD 0.232 ± 0.063 μM vs 0.947 ± 0.108 μM, respectively) (Fig.
1
).
Table 1
Demographic data, Phenodex scores according to Legrand et al. [
27
], and molecular genetic data of the
ABCC6
gene in our PXE patients. Updated Phenodex score assesses six organ systems—skin (S), eye (E), gastrointestinal (G), vascular (V), cardiac (C), and renal (R)—to create phenotypic categories based on clinical findings
Pt. no.

Sex

Age (y)

Phenodex score

Allele 1

Allele 2

Gene

Protein

Gene

Protein

1

F

52

S2 E3 G0 V1 C0 R0

c.3421C>Ta

p. R1141Xa

c.1132C>Ta

p.Q378Xa

2

F

52

S2 E3 G0 V1 C1 R0

c.1552C>Ta

p.R518Xa

c.3662G>Ab

p.R1221Hb

3

M

34

S2 E2 G0 V0 C0 R0

c.105delAc

p.Val37Serfs*44c

c.3421C>Ta

p.R1141Xa

4

M

68

S3 E2 G0 V0 C0 R0

c.1944-1G>Cd

-

exon 24-27delc

-

5

F

63

S3 E3 G0 V1 C0 R0

c.3421C>Ta

p. R1141Xa

c.1484T>Ab

p.L495Hb
×
Molecular genetic testing
Bidirectional Sanger sequencing and MLPA analysis of
ABCC6
confirmed the diagnosis of PXE in all patients (Table
1
). In patients 1, 2, 3, and 5, compound heterozygous bi-allelic pathogenic variants were identified. Moreover, in patient 4, an exon deletion and a novel splice-site mutation, c.1944-1G>C, have been detected. In silico mutational analysis was carried out using Human Splicing Finder v3.1 software (Aix Marseille Université, Marseille, France) in order to estimate the impact of the novel variant. The c.1944-1G>C change was predicted to fully disrupt the wild-type acceptor site, underscoring the pathogenicity of this mutation [
29
].
Histopathology
The papillary dermis and the deep layers of the dermis appeared to be unaffected in all patients. However, the mid-dermis of PXE patients exhibited prominent changes. H&E staining showed irregularly shaped, clumped, and faintly basophilic elastic fibers as well as numerous fibroblasts (Fig.
2
). WE staining revealed polymorphic, fragmented, and mineralized elastic fibers. VK staining displayed mid-dermal salt deposits and clumps of calcified elastin fibers, which were absent in the healthy samples. Finally, VG staining revealed disrupted, abnormal collagen fibers surrounding abundant mineral deposits, compared with dense, interwoven collagen structure in controls.
×
NLO microscopy imaging
NLO microscopic images of healthy and PXE-affected skin samples are displayed in Fig.
3
. In the mid-dermis of the control samples, the TPF channels showed a network of wavy, branching elastic fibers, while in the SHG channel, randomly organized collagen bundles in a basket weave-like pattern were observed. Conversely, the mid-dermis of PXE patients comprised of spacious calcified areas and fragmented, clumped elastin fibers as revealed by the TPF channel. When we counted the number of elastin fibers (indicated with numbering in the right-side panel of Fig.
4a
) in PXE patients, a significant increase has been found compared with healthy controls (175.7 ± 79.49 vs 97.56 ± 29.30). Elastin fiber length (outlined in blue in Fig.
4b
) was significantly lower in PXE (59.49 ± 0.66 μm vs 91.64 ± 5.6 μm). Measuring the calcium deposit relative surface area (marked in yellow in Fig.
4c
), we found significant calcification to be present in each patient but also that the general extent of calcification varied considerably among patients. No calcification was found in the controls. We also assessed if the extent of calcification correlated with plasma PPi levels and found no association (data not shown). SHG images from PXE patients showed sparsely distributed, irregular, and sometimes coiled collagen fibers (Fig.
3
). With the use of CT-FIRE algorithm, we found significantly shorter collagen fibers (67.99 ± 0.79 μm vs 73.53 ± 1.04 μm) and decreased fiber width (6.8 ± 0.06 μm vs 7.33 ± 0.07 μm) in the PXE samples compared with controls (Fig.
4d–e
). Similar to the histopathological analysis, the papillary dermis and deep dermis were morphologically normal for all samples.
×
×
Discussion
Acknowledgments
The authors wish to acknowledge Apor Astrid, Miklós Resch, Ágnes Borbándy, Otto Maneschg, Antal Szabó, András Papp, András Seres, and Lili Róbert for the clinical management of the included patients and Enikő Kuroli for her work in the histopathological evaluation. We thank Kende Lőrincz, Henriett Butz, and Attila Patócs for their help in the laboratory work. The Department of Dermatology, Venereology, and Dermatooncology, Semmelweis University, is a Reference Centre of the ERN-Skin: European Reference Network on Rare and Undiagnosed Skin Disorders.
Compliance with ethical standards
Conflict of interest
The authors declare that they have no conflict of interest.
Ethics approval
All procedures performed in studies involving human participants were in accordance with the ethical standards of the institutional research committee (Semmelweis University Regional and Institutional Committee of Science and Research Ethics, Budapest, Hungary, SE TUKEB no. 193/2017) with the 1964 Helsinki Declaration and its later amendments or comparable ethical standards.
Consent to participate
Written informed consent was obtained from the parents.
Consent for publication
Patients signed informed consent regarding publishing their data.
Open Access
This article is licensed under a Creative Commons Attribution 4.0 International License, which permits use, sharing, adaptation, distribution and reproduction in any medium or format, as long as you give appropriate credit to the original author(s) and the source, provide a link to the Creative Commons licence, and indicate if changes were made. The images or other third party material in this article are included in the article's Creative Commons licence, unless indicated otherwise in a credit line to the material. If material is not included in the article's Creative Commons licence and your intended use is not permitted by statutory regulation or exceeds the permitted use, you will need to obtain permission directly from the copyright holder. To view a copy of this licence, visit
http://​creativecommons.​org/​licenses/​by/​4.​0/​
.
Publisher's note
Springer Nature remains neutral with regard to jurisdictional claims in published maps and institutional affiliations.