24.09.2018 | Original Article | Ausgabe 10/2019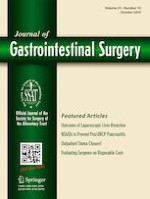 Nonsteroidal Anti-inflammatory Drugs for Endoscopic Retrograde Cholangiopancreatography Postoperative Pancreatitis Prevention: a Systematic Review and Meta-analysis
Zeitschrift:
Autoren:

Lan Liu, Chenghao Li, Yuan Huang, Haiyan Jin
Wichtige Hinweise
Electronic supplementary material
Lan Liu and Chenghao Li contributed equally to this work.
Abstract
Background or Purpose
There is controversy regarding the efficacy of nonsteroidal anti-inflammatory drugs (NSAIDs) for prophylaxis against endoscopic retrograde cholangiopancreatography (ERCP) postoperative pancreatitis. Therefore, we conducted a systematic review and meta-analysis to evaluate the efficacy of NSAIDs for prophylaxis against post-ERCP pancreatitis (PEP).
Methods
PubMed, EMBASE, and Cochrane library databases were searched for relevant randomized controlled trials (RCTs). Selected RCTs were pooled under a fixed effects model to generate the relative risks (RRs) and their corresponding 95% confidence intervals (CIs).
Results
Nineteen RCTs involving a total of 5031 patients (2555 in the intervention group and 2476 in the control group) were selected. Overall, NSAIDs were associated with a significant reduction in risk of PEP (RR = 0.54, 95% CI 0.45 to 0.64,
I
2
= 40.4%) and moderate to severe PEP (RR = 0.45, 95% CI 0.30 to 0.67,
I
2
= 0%) compared with the control group. Subgroup analyses were performed according to route of administration (rectal or other), type of NSAIDs (diclofenac, indomethacin, or other), timing of administration (pre-ERCP, post-ERCP, or other), and patient population (high risk or general). Subgroup analyses showed difference in clinical efficacy of NSAID prophylaxis regardless of route, timing, or specific type of NSAID.
Conclusion
NSAIDs were associated with a significant reduction in risk of PEP and moderate to severe PEP compared to the control group.