06.05.2020 | Original Article | Ausgabe 10/2020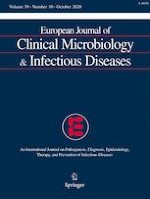 Nosocomial outbreak linked to a flexible gastrointestinal endoscope contaminated with an amikacin-resistant ST17 clone of
Pseudomonas aeruginosa
Autoren:

Felipe Fernández-Cuenca, Lorena López-Cerero, Gabriel Cabot, Antonio Oliver, Julio López-Méndez, Esther Recacha, Inés Portillo, Jesús Rodríguez-Baño, Álvaro Pascual
Wichtige Hinweise
Publisher's note
Springer Nature remains neutral with regard to jurisdictional claims in published maps and institutional affiliations.
Abstract
Endoscope contamination is infrequent but can be the source of nosocomial infections and outbreaks. In August 2016, an unexpected increase in the incidence of amikacin-resistant
P. aeruginosa
isolates (AK-Pae) was observed at a tertiary care center in the south of Spain. An epidemiological and microbiological investigation (August-October 2016) was performed to explain this finding. Isolates from clinical and environmental samples (2 endoscopes used for retrograde cholangiopancreatography; ERCP) were identified by MALDI-TOF. Antimicrobial susceptibility testing was performed using the MicroScan system. Whole-Genome-Sequencing (Miseq, Illumina) was performed to determine the resistome and virulome. Clonal relatedness among isolates was assessed by
SpeI
-PFGE and MLST. A
Caenorhabditis elegans
killing assay was performed for virulence testing. Biofilm formation was performed using a colorimetric assay. Four of the 5 patients infected and/or colonized with AK-Pae in August 2016 had undergone ERCP ≤5 days before sample collection. Two endoscopes were contaminated with AK-Pae. Isolates from one endoscope showed an identical PFGE pattern to 9 isolates (cluster I) and differed (1–2 bands) to 5 isolates (cluster II). Isolates from these clusters belonged to the ST17 clone. This S17 clone was characterized by its low virulence in the
C. elegans
killing assay, and its biofilm-forming ability, slightly superior to that of high-risk clones of
P. aeruginosa
ST175 and ST235. This outbreak was caused by an endoscope used for ERCP contaminated with an invasive, moderately virulent, biofilm-forming AK-Pae ST17 clone, suggesting the possible emergence of a new high-risk lineage of this clone.