18.09.2017 | review | Ausgabe 5/2017 Open Access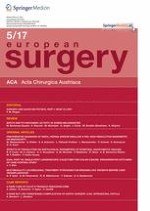 Notch and its oncogenic activity in human malignancies
Zeitschrift:
Autoren:

Marlena Brzozowa-Zasada, Adam Piecuch, Marek Michalski, Oliwia Segiet, Józef Kurek, Marzena Harabin-Słowińska, Romuald Wojnicz
Summary
Background
Increasing evidence has demonstrated that Notch signaling is deregulated in human hematological malignancies and solid tumors. This signaling has a protumorigenic effect but may also act as a tumor suppressor. How induction of a single pathway gives rise to the opposite effects in different cell types is still unknown.
Methods
This review article includes available data from peer-reviewed publications associated with the role of Notch signaling during cancer pathogenesis.
Results
Numerous reports have indicated that alterations in Notch signaling and its oncogenic activity were originally associated with the pathogenesis of T‑cell acute lymphoblastic leukemia/lymphoma (T-ALL), an aggressive hematologic tumor affecting children and adolescents. The possibility that Notch could play a significant role in human breast cancer development comes from studies on mouse mammary tumor virus-induced cancer. Numerous findings over the past several years have indicated that alterations in Notch signaling are also responsible for ovarian cancer development. Mention should also be made of the connection between expression of Notch 3 and increased resistance to chemotherapy, which remains a major obstacle to successful treatment. Notch as an oncogenic factor is also involved in the development of colon cancer, lung carcinoma and Kaposi's sarcoma.
Conclusion
Notch is a binary cell fate determinant and its overexpression has been described as oncogenic in a wide array of human malignancies. This finding led to interest in therapeutically targeting this pathway, especially by the use of gamma-secretase inhibitors (GSIs) blocking the cleavage of Notch receptors at the cell membrane by the inhibition of Notch intracellular domain (NICD) releasing. Preclinical cancer models have revealed that GSIs suppress the growth of cancers such as pancreatic, breast and lung cancer.