01.12.2017 | Research | Ausgabe 1/2017 Open Access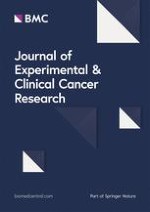 Notch signaling plays a crucial role in cancer stem-like cells maintaining stemness and mediating chemotaxis in renal cell carcinoma
Zeitschrift:
Autoren:

Wei Xiao, Zhiyong Gao, Yixing Duan, Wuxiong Yuan, Yang Ke
Abstract
Background
Cancer stem cells (CSCs) are correlated with the initiation, chemoresistance and relapse of tumors. Notch pathway has been reported to function in CSCs maintenance, but whether it is involved in renal cell carcinoma (RCC) CSCs maintaining stemness remain unclear. This study aims to explore the effect of Notch pathway on stemness of CSCs in RCC and the underlying mechanisms.
Methods
The CD133+/CD24+ cells were isolated from RCC ACHN and Caki-1 cell line using Magnetic-activated cell sorting and identified by Flow cytometry analysis. RT-PCR and immunoblot analyses were used for determining the stemness maker expression. The effect of Notch pathway on function of CSCs was assessed by self-renewal ability, chemosensitivity, invasive and migratory ability tumorigenicity in vivo using soft agar colony formation assay, sphere-forming assay, MTT assay, Transwell assay.
Results
Here, we found that the sorted CD133+/CD24+cells possessed elevated stemness maker CTR2, BCL-2, MDR1, OCT-4, KLF4, compared with parental cells, as well as enhanced self-renewal ability, stronger resistance to cisplatin and sorafenib, increased invasion and migration, and higher tumorigenesis in vivo, suggesting the CD133+/CD24+ cells have the stem-like characteristics of CSCs and thus identified as RCC CSCs. Then the enhanced notch1, notch2, Jagged1, Jagged2, DLL1 and DLL4 expression were detected in RCC CSCs and blockage of Notch1 or notch2 using pharmacological inhibitor MRK-003 or its endogenous inhibitor Numb resulted in loss of its stemness features: self-renewal, chemoresistance, invasive and migratory potential, and tumorigenesis in vivo. Moreover, it is confirmed that overexpression of notch1 up-regulated CXCR4 inRCC CSCs and augmented SDF-1-induced chemotaxis in RCC CSCs in vitro, which could be rescued when treatment of CXCR4 inhibitor, suggesting that notch signaling promotes the chemotaxis of RCC CSCs by SDF-1/CXCR4 axis.
Conclusions
Our results provide a new mechanism of RCC CSCs maintaining stemness via notch pathway as well as a potential therapeutic target in human RCC.