01.12.2018 | Research | Ausgabe 1/2018 Open Access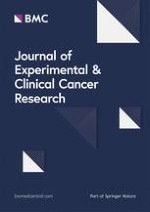 Notch1 signaling in melanoma cells promoted tumor-induced immunosuppression via upregulation of TGF-β1
Zeitschrift:
Autoren:

Zike Yang, Yanxia Qi, Nan Lai, Jiahe Zhang, Zehong Chen, Mingyu Liu, Wan Zhang, Rongcheng Luo, Shijun Kang
Abstract
Background
The receptors of Notch family play an important role in controlling the development, differentiation, and function of multiple cell types. The aim of this study is to investigate the role of Notch1 signaling upon immune suppression induced by melanoma cells.
Methods
Melanoma cell line B16 cells were transfected by lentivirus containing mouse Notch1 gene or Notch1 shRNA to generate B16 cell line that highly or lowly expressed Notch1. Notch1 in anti-tumor immune response was comprehensively appraised in murine B16 melanoma tumor model in immunocompetent and immunodeficient mice. The ratios of CD3+CD8+ cytotoxic T cells, CD49b+NK cells, CD4+CD25+FoxP3+ Tregs and Gr1+CD11b+ MDSCs in tumor-DLN or spleen were examined by flow cytometry. After the co-culture of B16 cells and CD8+ T cells, the effects of Notch1 on the proliferation and activation of T cells were assessed by CCK8 assay, CFSE dilution and Chromium-release test. The mRNA expression and supernatant secretion of immunosuppressive cytokines, TGF-β1, VEGF, IL-10 and IFN-γ were measured by RT-PCR and ELISA, respectively.
Results
Downregulation or overexpression of Notch1 in B16 melanoma cells inhibited or promoted tumor growth in immunocompetent mice, respectively. Notch1 expression in B16 melanoma cells inhibited the infiltration of CD8+ cytotoxic T lymphocytes and NK cells and reduced IFN-γ release in tumor tissue. It could also enhance B16 cell-mediated inhibition of T cell proliferation and activation, and upregulate PD-1 expression on CD4+ and CD8+ T cells. The percentage of CD4+CD25+FoxP3+ Tregs and Gr1+CD11b+MDSCs were significantly increased in tumor microenvironment, and all these were attributed to the upregulation of TGF-β1.
Conclusion
These findings suggested that Notch1 signaling in B16 melanoma cells might inhibit antitumor immunity by upregulation of TGF-β1.