13.02.2018 | Original Article | Ausgabe 4/2018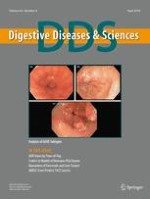 Novel Albumin–Bilirubin Grade-Based Risk Prediction Model for Patients with Hepatocellular Carcinoma Undergoing Chemoembolization
Zeitschrift:
Autoren:

Jung Hee Kim, Dong Hyun Sinn, Jeong-Hoon Lee, Dongho Hyun, Sung Ki Cho, Sung Wook Shin, Young Chang, Yoon Jun Kim, Jung-Hwan Yoon, Wonseok Kang, Geum-Youn Gwak, Yong-Han Paik, Joon Hyeok Lee, Kwang Cheol Koh, Seung Woon Paik, Moon Seok Choi
Wichtige Hinweise
Electronic supplementary material
Jung Hee Kim, Dong Hyun Sinn and Jeong-Hoon Lee have contributed equally to this study.
Abstract
Background
Recently, albumin–bilirubin (ALBI) grade has been suggested as a better surrogate for hepatic functional reserve for patients with hepatocellular carcinoma (HCC).
Aims
We developed and validated a novel prediction model to predict outcome for HCC patients who underwent transcatheter arterial chemoembolization (TACE) as a first-line therapy.
Methods
From a multivariate Cox regression model for overall survival, five objective variables (ALBI grade), the Barcelona clinic liver cancer (BCLC) stage, response after the first TACE session, Alpha-fetoprotein level, and sex were chosen and the ABRAS score was developed from the derivation cohort (
n
= 476) and scored to generate an 8-point risk prediction model. The model's prognostic performance was assessed in the randomly assigned internal validation set (
n
= 475) and external validation set (
n
= 243).
Results
The ALBI grade was able to stratify patient survival within the same Child–Pugh class. The time-dependent area under receiver operating characteristics curves (AUROCs) for overall survival at 1 and 3 years were 0.78 and 0.73 in the training set, 0.78 and 0.71 in the internal validation set, and 0.70 and 0.65 in the external validation set, respectively. When stratified by BCLC stage, ABRAS score at a cutoff point of more than 3, 4, and 5 for BCLC stage 0/A, B, and C could identify subset of patients with dismal prognosis.
Conclusion
ABRAS score was useful in estimating prognosis for patients who underwent TACE as a first-line therapy. This score can be useful in planning and guiding treatment strategies with TACE, which warrants prospective validation.