01.12.2017 | Research article | Ausgabe 1/2017 Open Access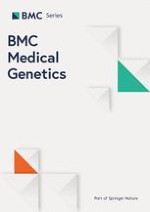 Novel compound heterozygous mutations in the
OTOF

Gene identified by whole-exome sequencing in auditory neuropathy spectrum disorder
Zeitschrift:
Autoren:

Fengzhu Tang, Dengke Ma, Yulan Wang, Yuecai Qiu, Fei Liu, Qingqing Wang, Qiutian Lu, Min Shi, Liang Xu, Min Liu, Jianping Liang
Wichtige Hinweise
Electronic supplementary material
The online version of this article (doi:
10.​1186/​s12881-017-0400-0
) contains supplementary material, which is available to authorized users.
Abstract
Background
Many hearing-loss diseases are demonstrated to have Mendelian inheritance caused by mutations in single gene. However, many deaf individuals have diseases that remain genetically unexplained. Auditory neuropathy is a sensorineural deafness in which sounds are able to be transferred into the inner ear normally but the transmission of the signals from inner ear to auditory nerve and brain is injured, also known as auditory neuropathy spectrum disorder (ANSD). The pathogenic mutations of the genes responsible for the Chinese ANSD population remain poorly understood.
Methods
A total of 127 patients with non-syndromic hearing loss (NSHL) were enrolled in Guangxi Zhuang Autonomous Region. A hereditary deafness gene mutation screening was performed to identify the mutation sites in four deafness-related genes (
GJB2
,
GJB3
, 12S rRNA, and
SLC26A4
). In addition, whole-exome sequencing (WES) was applied to explore unappreciated mutation sites in the cases with the singularity of its phenotype.
Results
Well-characterized mutations were found in only 8.7% (11/127) of the patients. Interestingly, two mutations in the
OTOF
gene were identified in two affected siblings with ANSD from a Chinese family, including one nonsense mutation c.1273C > T (p.R425X) and one missense mutation c.4994 T > C (p.L1665P). Furthermore, we employed Sanger sequencing to confirm the mutations in each subject. Two compound heterozygous mutations in the
OTOF
gene were observed in the two affected siblings, whereas the two parents and unaffected sister were heterozygous carriers of c.1273C > T (father and sister) and c.4994 T > C (mother). The nonsense mutation p.R425X, contributes to a premature stop codon, may result in a truncated polypeptide, which strongly suggests its pathogenicity for ANSD. The missense mutation p.L1665P results in a single amino acid substitution in a highly conserved region.
Conclusions
Two mutations in the
OTOF
gene in the Chinese deaf population were recognized for the first time. These findings not only extend the
OTOF
gene mutation spectrum for ANSD but also indicate that whole-exome sequencing is an effective approach to clarify the genetic characteristics in non-syndromic ANSD patients
.