01.12.2018 | Hypothesis | Ausgabe 1/2018 Open Access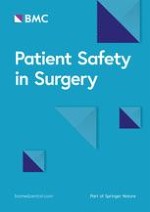 Novel concept of a modular hip implant could contribute to less implant failure in THA: a hypothesis
Zeitschrift:
Autoren:

Ronny Grunert, Stefan Schleifenbaum, Robert Möbius, Michael Kopper, Christian Rotsch, Welf-Guntram Drossel, Niels Hammer, Torsten Prietzel
Abstract
Background
The modularity in total hip arthroplasty (THA) allows orthopaedic surgeons for an exact reconstruction of hip biomechanical parameters especially in revision and tumor arthroplasty. Modular structured femoral stems using taper junctions showed increased implant breakage in the recent past.
Presentation of the hypothesis
We hypothesize that a novel modular stem-neck-interface leads to less implant breakage compared to conventional femoral stems.
Testing of the hypothesis
For this purpose, a novel modular femoral stem for THA was to design and manufacture. Therefore, three different variants of interface mechanisms were developed that enable a simple connection between the stem and the neck modules and allow for intra-operatively adjustment. Three prototypes A, B and C were manufactured and subsequently dynamic fatigue (ISO 7206–6) and body donor tested.
Implication of the hypothesis
Modularity in THA is mainly applied in THA as well as in revision and tumor arthroplasty. Modular implants are barely used because of the high risk of breakage. Another risks in this context are taper fretting, corrosion and disconnection. With the novel design, it should be possible to detach the stem and neck module intra-operatively to adapt the anatomical situation. The novel coupling mechanism of the rotating interface seems to be the most suitable for a secure stem-neck connection and is characterized by good intraoperative handling.