20.06.2020 | Original Article | Ausgabe 4/2020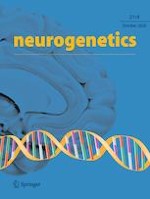 Novel familial
IQSEC2

pathogenic sequence variant associated with neurodevelopmental disorders and epilepsy
Zeitschrift:
Autoren:

Marketa Wayhelova, Michal Ryzí, Jan Oppelt, Eva Hladilkova, Vladimira Vallova, Lenka Krskova, Marcela Vilemova, Hana Polackova, Renata Gaillyova, Petr Kuglik
Wichtige Hinweise
Electronic supplementary material
Publisher's note
Springer Nature remains neutral with regard to jurisdictional claims in published maps and institutional affiliations.
Abstract
Pathogenic sequence variants in the IQ motif– and Sec7 domain–containing protein 2 (
IQSEC2
) gene have been confirmed as causative in the aetiopathogenesis of neurodevelopmental disorders (intellectual disability, autism) and epilepsy. We report on a case of a family with three sons; two of them manifest delayed psychomotor development and epilepsy. Initially proband A was examined using a multistep molecular diagnostics algorithm, including karyotype and array-comparative genomic hybridization analysis, both with negative results. Therefore, probands A and B and their unaffected parents were enrolled for an analysis using targeted "next-generation" sequencing (NGS) with a gene panel ClearSeq Inherited Disease
XT
(Agilent Technologies) and verification analysis by Sanger sequencing. A novel frameshift variant in the X-linked
IQSEC2
gene NM_001111125.2:c.1813_1814del, p.(Asp605Profs*3) on protein level, was identified in both affected probands and their asymptomatic mother, having skewed X chromosome inactivation (XCI) (100:0). As the
IQSEC2
gene is a known gene escaping from XCI in humans, we expect the existence of mechanisms maintaining the normal or enough level of the IQSEC2 protein in the asymptomatic mother. Further analyses may help to the characterization of the presented novel frameshift variant in the
IQSEC2
gene as well as to elucidate the mechanisms leading to the rare asymptomatic phenotypes in females.