01.12.2015 | Research article | Ausgabe 1/2015 Open Access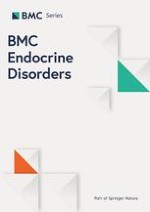 Novel MEN 1 gene findings in rare sporadic insulinoma—a case control study
Zeitschrift:
Autoren:

Viveka P. Jyotsna, Ekta Malik, Shweta Birla, Arundhati Sharma
Wichtige Hinweise
Competing interests
The authors declare that they have no competing interest.
Author contributions
VPJ was involved in the clinical diagnosis, management, literature survey and manuscript preparation. SB carried out the molecular genetic studies, literature search, data analysis and manuscript preparation. EM carried out the molecular genetic studies, literature search and data analysis. AS supervised the genetic studies, literature survey, data analysis, manuscript preparation and editing. All authors read and approved the final manuscript.
Abstract
Background
Insulinomas, which are rare tumors causing hyperinsulinemic hypoglycemia are usually sporadic but may also occur in association with multiple endocrine neoplasia type 1 (MEN-1) syndrome an autosomal dominant disorder caused by MEN1 gene mutations. MEN1 encodes a nuclear protein Menin, a tumor suppressor which acts as an adapter and interacts with partner proteins involved in crucial activities like transcriptional regulation, cell division, proliferation and genome stability.
This study reports on clinical findings and mutation screening in sporadic insulinoma patients.
Methods
Seventeen patients diagnosed with insulinoma were recruited along with 30 healthy volunteers who acted as controls for the present study. The patients presented with symptoms of sweating, tremors, drowsiness, palpitations, loss of consciousness, abnormal behavior, seizures and weight gain. Detailed clinical and family history was collected from all the participants along with 5 ml of blood sample after taking informed consent.
Genomic DNA isolated from blood was subjected to MEN1 gene amplification followed by direct sequencing. Nucleotide sequences obtained were compared with published MEN1 cDNA sequences. Prediction of functional effects of novel changes was done using various bioinformatics algorithms.
Results
Molecular analysis revealed presence of three novel exonic mutations (M561K, Q192K and Q261Q), two novel intronic variations c.445-44G → A and c.913-42G → C in introns two and six respectively and three reported exon SNPs; H433H (rs540012), D418D (rs2071313), A541T (rs2959656) and one intronic SNP (rs669976).
Conclusions
The study identified presence of novel pathogenic MEN1 mutations in sporadic cases of insulinoma. The new mutations identified were in regions involved in defective binding of menin to proteins implicated in genetic and epigenetic mechanisms. The outcome of the study extends the growing list of MEN1 pathogenic mutations even in sporadic cases providing consequential insight into phenotypic heterogeneity and in the expression of individual mutations.