01.12.2018 | Research | Ausgabe 1/2018 Open Access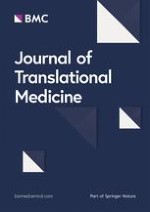 Novel oncolytic chimeric orthopoxvirus causes regression of pancreatic cancer xenografts and exhibits abscopal effect at a single low dose
Zeitschrift:
Autoren:

Michael P. O'Leary, Audrey H. Choi, Sang-In Kim, Shyambabu Chaurasiya, Jianming Lu, Anthony K. Park, Yanghee Woo, Susanne G. Warner, Yuman Fong, Nanhai G. Chen
Abstract
Background
Pancreatic ductal adenocarcinoma (PDAC) has been increasing by 0.5% per year in the United States. PDAC portends a dismal prognosis and novel therapies are needed. This study describes the generation and characterization of a novel oncolytic chimeric orthopoxvirus for the treatment of pancreatic cancer.
Methods
After chimerization and high-throughput screening, CF33 was chosen from 100 new chimeric orthopoxvirus isolates for its ability to kill pancreatic cancer cells. In vitro cytotoxicity was assayed in six pancreatic cancer cell lines. In vivo efficacy and toxicity were evaluated in PANC-1 and MIA PaCa-2 xenograft models.
Results
CF33 caused rapid killing of six pancreatic cancer cells lines in vitro, releasing damage-associated molecular patterns, and regression of PANC-1 injected and non-injected distant xenografts in vivo after a single low intratumoral dose of 103 plaque-forming units. Using luciferase imaging, CF33 was noted to preferentially replicate in tumors which corresponds to the low viral titers found in solid organs.
Conclusion
The low dose of CF33 required to treat pancreatic cancer in this preclinical study may ease the manufacturing and dosing challenges currently facing oncolytic viral therapy.