01.12.2017 | Research | Ausgabe 1/2017 Open Access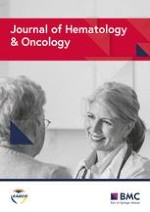 Novel roles of DC-SIGNR in colon cancer cell adhesion, migration, invasion, and liver metastasis
Zeitschrift:
Autoren:

Heya Na, Xiaoli Liu, Xiaomeng Li, Xinsheng Zhang, Yu Wang, Zhaohui Wang, Menglang Yuan, Yu Zhang, Shuangyi Ren, Yunfei Zuo
Wichtige Hinweise
Electronic supplementary material
The online version of this article (doi:
10.​1186/​s13045-016-0383-x
) contains supplementary material, which is available to authorized users.
Abbreviation
GAPDH
Glyceraldehyde-3-phosphate dehydrogenase
PBS
Phosphate-buffered saline
Background
Tumor metastasis, the main feature of malignant tumors, is often considered to be the most lethal property of cancer cells [
1
]. The process of tumor metastasis is complex, continuous, and multifactorial. Tissue-specific interactions play a critical role in the initiation of tumor metastasis. This process is regulated by specific tissue cells as well as by cancer cells [
2
,
3
]. From the perspective of the organ microenvironment, both the vessel diameter of capillary walls and the structural composition of blood vessels can affect tumour cell infiltration [
4
,
5
]. The capillaries of the liver and lymph nodes are found to be lined with fenestrated endothelial cells and are thus more permissive to the recruitment of tumour cells. Furthermore, some specific ligands on the endothelial cells are also involved in tumor metastasis. At the same time, tumor cells can optimize their motility depending on the environment of the surrounding tissues and regulate the expression of specific receptors on the cell surface, which synergistically facilitate organ-specific metastasis [
6
].
DC-SIGNR, dendritic cell-specific intercellular adhesion molecule-grabbing nonintegrin-related protein, is a C-type II integral membrane protein. It is predominantly found on the sinusoidal endothelial cells in the liver and lymph nodes as well as in the placental endothelium [
7
]. Generally, the importance of DC-SIGNR is due to its role as a cell-adhesion receptor that has high affinity for ICAM-2, ICAM-3, Lewis
a
, Lewis
b
, and Lewis
y
[
8
]. DC-SIGNR is also involved in the innate immune system and recognizes diverse pathogens, ranging from viruses to parasites, that have a tremendous impact on public health. It has been reported to play an important role in various pathophysiological conditions, such as hepatitis C, HIV, and severe acute respiratory syndrome [
9
–
11
]. LSECtin belongs to a subfamily that includes DC-SIGNR, DC-SIGN, and CD23 and is also found on the liver sinusoidal endothelial cells. It has been demonstrated that LSECtin is a crucial regulator of colon cancer liver metastasis [
12
]. The serum LSECtin level in patients with colon cancer liver metastasis was higher than that in patients without metastasis, and LSECtin increased the expression of c-Met in colon cancer cells. Recently, our laboratory has reported that the level of serum DC-SIGNR in colon cancer patients was higher than in healthy volunteers [
13
]. DC-SIGNR may be a significant biomarker that could be used for the diagnosis of early stage colon cancer. Furthermore, many other C-type lectins have also been demonstrated to be involved in tumour metastasis. Christopher R. Parish et al. found that endothelial-derived P-selectin was as important as platelet-derived P-selectin in aggravating lung metastases and participated in liver metastasis [
14
]. Sayeda Yasmin-Karim emphasized that the interaction of E-selectin and the E-selectin ligand mediated the rolling and adhesion of prostate cancer cells on the endothelial surface through the RAS-ERK-MAP kinase pathway [
15
]. The mannose receptor promoted colon carcinoma cell interaction with the liver sinusoidal endothelium and contributed to colon cancer hepatic metastasis, which was induced by interleukin-1 [
16
]. Therefore, we hypothesized that DC-SIGNR could also be associated with human colon cancer progression.
Metallothioneins are a group of evolutionarily conserved, low molecular weight, cysteine-rich proteins. The metallothionein genes are located on chromosome 16 (16q12-22) in humans. There are four primary metallothionein isoforms: MT1, MT2, MT3, and MT4. Whereas MT1 and MT2 are commonly expressed, MT3 seems to be restricted to the brain, and MT4 is specifically found in certain squamous epithelial tissues. Furthermore, there are eight functional paralogs of MT1 (MT1A, MT1B, MT1E, MT1F, MT1G, MT1H, MT1M, and MT1X) [
17
]. Metallothioneins, as redox-active proteins, have many functions, including zinc homeostasis, heavy metal detoxification and metal transfer [
18
]. They can facilitate the chemoresistance to some anti-cancer drugs [
19
,
20
]. In recent years, metallothioneins have been shown to be related to tumor stage, therapy resistance, poor prognosis, and survival in many cancers [
21
].
In our study, we aimed to gain insights into the important biological effect of DC-SIGNR on colon cancer. We found that colon cancer patients with liver metastasis showed higher levels of DC-SIGNR compared with patients without metastasis. In addition, DC-SIGNR expression could be induced on colon cancer cells through various changes in the tumour microenvironment. Furthermore, DC-SIGNR mediated the upregulation of metallothioneins. Both in vitro and in vivo experiments were performed to elucidate the relevance of DC-SIGNR-mediated tumor metastasis, and the inhibition of DC-SIGNR activity or of downstream DC-SIGNR-regulated events could be a therapeutic intervention for colon cancer formation.
Methods
Cell culture and nude mice
Colon cancer cells LoVo, LS174T and HCT-116 were used in this research. Cells were cultured in RPMI 1640 medium supplemented with 10% fetal bovine serum and 100 U/ml penicillin and streptomycin (Beyotime, China). Cells were maintained in a 37 °C incubator with 5% CO 2 humidified air. Six-to-eight-week old nude mice were purchased from Dalian Medical University (Dalian, China). They were bred and acclimated under specific pathogen-free conditions. All of the animal studies were conducted in accordance with the Institutional Animal Care and Use Committee of Dalian Medical University.
Patients
A total of 81 patients with colon cancer were enrolled in our study, and all patients were treated in the First or Second Affiliated Hospital of Dalian Medical University. None of the patients were immediate relatives. Clinical information about patients is listed in Additional file
1
: Table S2. The control group consisted of 57 healthy volunteers. These clinical materials for research were approved by the Research Ethics Committee of Dalian Medical University.
Plasmid
DC-SIGNR expression plasmid was produced and depended on cDNA fragment containing the full coding sequence of DC-SIGNR ((nt)39-1184, AF290887). Two shRNA sequences for knockdown of mouse DC-SIGNR were shRNA a: 5′-GCAGACTTCTAAGGCTAAAGG-3′; shRNA b 5′-GCTCCAGA CTACGACCAAATT-3′. The negative control vector contains a nonsense sequence which has no significant homology with the target sequence. It was 5′-GTTCTCCGAACGTGTCACGT-3′. All of the plasmids were designed and synthesized by Shanghai Gene Pharma (Shanghai, China).
Detection of soluble DC-SIGNR in colon cancer patients
The serum levels of DC-SIGNR were measured using a commercial sandwich enzyme-linked immunosorbent assay method. The wells of 96-well microplates were coated with 100 μl of an anti-DC-SIGNR goat polyclonal antibody (1:1000, Santa Cruz Biotechnology, Inc., USA) at a final concentration of 0.27 μg/ml as a capture antibody and incubated overnight at 4 °C. The plates were washed three times with phosphate buffered saline (PBS) containing 0.05% Tween-20 (PBST, pH 7.4), and the wells were blocked with blocking buffer (5% bovine serum albumin) at 37 °C for 1 h. The plates were washed three times with PBST. Then, 100 μl of diluted rhDC-SIGNR-Fc standard was added to the wells along with the serum from colon cancer patients and healthy controls. As a negative control, 100 μl of PBS was used. Each plate was incubated at 37 °C for 2 h. Subsequently, PBST was used to wash the plates three times, and 100 μl of an anti-DC-SIGNR mouse monoclonal antibody (1:1000, R&D Systems, Inc., USA) diluted to a concentration of 0.5 μg/ml was added to each well. The plates were incubated at 37 °C for 1.5 h. After washing, 100 μl of a peroxidase-conjugated goat anti-mouse antibody (1:1000, ZSGB-BIO, China) was added, and the plates were incubated at 37 °C for 1 h. Finally, the plates were washed three times and incubated with 3, 3′, 5, 5′-tetramethylbenzidine (TMB, TIANGEN BIOTECH CO, LTD.) at 37 °C for 0.5 h, and then 2 mol/L H
2
SO4 was added to stop the reaction. The optical density (OD) was measured at a wavelength of 450 nm in a microplate reader. The quantitative DC-SIGNR concentrations were determined by comparing the optical density values with the standard curve (Additional file
2
: Figure S5).
Cell adhesion and flow cytometry
The colon cancer cell lines LoVo, LS174T and HCT-116 were treated with a recombinant human DC-SIGNR protein or control IgG on ice for 3 h. To detect the interaction between the cells and the protein, the cells were incubated with an anti-DC-SIGNR mouse monoclonal antibody (1:100, R&D Systems, Inc., USA) on ice for 1 h. The cells were gently washed three times with PBS. Then, a fluorescein isothiocyanate-conjugated goat anti-mouse IgG secondary antibody (1:50, ZSGB-BIO, China) was added, and the cells were incubated on ice for another 1 h. The cells were then washed and fixed in 4% paraformaldehyde. The adherent cells were measured the next day using a FACSCalibur instrument (BD Biosciences, USA). For the inhibition assay, the DC-SIGNR protein (5 μg/ml) was pre-incubated with selected ligands, including EDTA, D-mannose, galactose, N-acetylglucosamine, and L-fucose.
In vitro migration and invasion assays
Cells were treated with the recombinant DC-SIGNR protein or with control IgG. The in vitro migration assay was performed in 24-well plates with Transwell inserts (6.5 mm in diameter, 8-μm pore size, Corning, USA). For the invasion assay, the cells were incubated on the Matrigel-coated membranes of the inserts. The cells were incubated for 24 h, and then the cells on the upper membrane, which had not migrated or invaded, were removed using a cotton swab. Subsequently, the cells on the lower side of the membrane were fixed in methanol for 15 min and stained with 0.5% crystal violet for 30 min. For the wound healing assay, cell monolayers were wounded by a sterile pipet tip when the cells were nearly 100% confluent. The movement of the cells was photographically monitored at 0 and 24 h after the wounding. Images were taken at the indicated time points (Olympus IX71, Japan).
Colony formation assay
LoVo, LS174T, and HCT-116 colon cancer cells were seeded in six-well plates at a density of 1000 cells per well. The cells were treated with 5 μg/ml DC-SIGNR protein or control IgG. After incubating for 14 days at 37 °C in a humidified 5% CO 2 atmosphere, visible clones appeared. The cells were washed with PBS and stained with 0.5% crystal violet in methanol for 45 min. Colonies with >50 cells were counted using an optical microscope (Olympus IX71, Japan).
Injection of plasmid DNA
Naked plasmid DNA was administered to mice in a large volume via tail vein injection. The volume of the solution used corresponded to 8% of the body weight of the mouse, i.e., 1.6–1.8 ml. The injections were completed within 5–7 s.
Reverse transcription polymerase chain reaction
Total RNA was isolated from liver tissues using TRIzol reagent (TaKaRa Bio, Japan). The human DC-SIGNR transcript was amplified with the following primers: forward primer, 5′- TGTCCAAGGTCCCCAGCTCCC-3′, reverse primer, 5′-GAACTCACCAAATGCAGTCTTCAAATC-3′. The mouse DC-SIGNR primers were: forward primer, 5′-TGGCAGTCTCCAAAACCCCAAATAC-3′, reverse primer, 5′-ACGGCGTCATTCCAGTTCCGC-3′. β-actin was selected as the endogenous control and was amplified using the following primers: forward primer 5′-GGCTGTATTCCCCTCCATCG-3′, reverse primer 5′-CCAGTTGGTAACAATGCCATGT-3′. The PCR amplification products were distinguished on a 1% agarose (Pronadisa, Spain) gel containing 0.5 μg/ml Gold View I and visualized under a UV transilluminator.
Western blot analysis
Proteins from mouse liver tissues and from LoVo, LS174T and HCT-116 cells were extracted and separated on Tris-glycine gels, and western blot analyses were performed according to standard procedures. The protein extracts were immunoblotted with a mouse DC-SIGNR antibody (1:1000, R&D Systems, Inc., USA), human DC-SIGNR antibody (1:500, Abcam, USA), metallothionein antibody (1:150, Biosynthesis Biotechnology, China), and MMP9 antibody (1:1000, Elabscience Biotechnology, China). A β-actin antibody was used as a control.
Establishment of the liver metastatic model
Mice were anaesthetized with pentobarbital sodium (Sigma, USA) at 45 mg/kg body weight by intrasplenic injection. A 1-cm incision was made in the left flank, and the spleen was separated and exteriorized. Then, 5 × 10 6 LoVo, LS174T or HCT-116 cells were injected into the spleen. The spleen was returned to the abdominal cavity, and the wound was sutured. When signs of abdominal distension or locomotive deficit appeared or a tumor was detected by palpation, the mice were killed, and their livers and spleens were harvested.
Immunohistochemistry analysis
Tissue slides were deparaffinized, rehydrated and boiled in citrate buffer. The tissue sections were incubated with primary Ki67 (1:100, Bioworld Technology, China), CEA (1:100, Bioworld Technology, China), CK20 (1:100, Bioworld Technology, China) and CK7 (1:100, Proteintech, China) antibodies overnight at 4 °C. Then, the sections were incubated with an HRP-conjugated anti-rabbit antibody (1:1000, ZSGB-BIO, China) for 30 min at 37 °C, stained with DAB, and counterstained with haematoxylin.
Human gene expression array
LoVo cells were incubated with the recombinant DC-SIGNR protein or control IgG for 4 h. Total RNA was isolated and analyzed on an Affymetrix GeneChip PrimeView TM Human Gene Expression Array (Affymetrix, Santa Clara, CA). On this chip, 530,000 probe sets represent more than 20,000 genes, which are completely annotated by the RefSeq RNA database.
Quantitative real-time PCR validation
Quantitative real-time PCR was used to validate the changes in expression of metallothioneins and MMP9 in colon cancer cells. cDNA was synthesized using a PrimeScript II 1st Strand cDNA Synthesis Kit (TaKaRa Bio, Japan). All PCR reactions were performed at least in triplicate, and the results were analysed on a Thermal Cycler Dice Real-Time System (TaKaRa Bio, Japan) using SYBR Premix Ex TaqTM PCR master mix (TaKaRa Bio, Japan). GAPDH was selected as the endogenous control. The primer pairs used for PCR are presented in Additional file
3
: Table S3. The fold change of each gene was calculated using the delta-delta CT method.
Statistical analysis
The data were presented as the mean ± SD as indicated. Comparisons between two groups were assessed using an unpaired two-tailed
t
test. A one-way ANOVA with Tukey's Multiple Test were used for comparisons between multiple groups. The non-parametric Mann-Whiney
U
test was employed to analyse the association of DC-SIGNR levels with various clinicopathologic characteristics. The survival analysis was performed using the log-rank (Mantel-Cox) test. For all tests, a
P
value of <0.05 was considered significant. All results were reproduced across triplicate experiments, and the statistical analyses were carried out using GraphPad Prism (GraphPad Software, Inc., USA).
Results
Discussion
In this study, we have demonstrated that DC-SIGNR plays a functional role in promoting colon cancer metastasis. Our results showed that the DC-SIGNR protein dramatically induced colon cancer cell adhesion, migration and invasion properties in vitro. Mouse DC-SIGNR and human DC-SIGNR are both involved in colon cancer liver metastasis in vivo. Furthermore, we showed that DC-SIGNR promoted the liver metastasis of colon cancer cells through a novel regulatory pathway in which DC-SIGNR notably increased the expression of metallothionein isoforms and MMP9. Consistent with our observation, the serum levels of DC-SIGNR were significantly higher in colon cancer patients with liver metastasis than those without metastasis. In sum, we have clearly demonstrated that DC-SIGNR is a critical mediator of colon cancer liver metastasis.
Conclusions
In summary, our study on DC-SIGNR indicates its novel role in colon cancer liver metastasis. DC-SIGNR may be a promising biomarker that provides a new therapeutic strategy for the treatment of colon cancer.
Acknowledgements
Not applicable.
Funding
This work was supported by grants from the Chinese National Science Foundation Projects (81372669, 31470800 and 31270867), the Science and Technology Planning Project of Liaoning province, China (2012225020), and the Project of Chinese Ministry of Health (W2012RQ23).
Availability of data and materials
The data supporting our findings can be found in the supplementary data.
Authors' contributions
HN and XLiu were responsible for doing experiments, acquisition of data, analysis and drafted the manuscript. XLi, YW, ZW, and YZhang provided technical and material support. XZ and MY provided and collected the clinical data. YZuo and SR were responsible for designing the experiments and study supervision. All authors read and approved the final manuscript.
Competing interests
The authors declare that they have no competing interests.
Consent for publication
Not applicable.
Ethics approval and consent to participate
The research protocol was reviewed and approved by the Ethics Committee of Dalian Medical University, and informed consent was obtained from all participants included in the study, in agreement with institutional guidelines.
Open Access
This article is distributed under the terms of the Creative Commons Attribution 4.0 International License (
http://​creativecommons.​org/​licenses/​by/​4.​0/​
), which permits unrestricted use, distribution, and reproduction in any medium, provided you give appropriate credit to the original author(s) and the source, provide a link to the Creative Commons license, and indicate if changes were made. The Creative Commons Public Domain Dedication waiver (
http://​creativecommons.​org/​publicdomain/​zero/​1.​0/​
) applies to the data made available in this article, unless otherwise stated.