11.12.2018 | Übersicht | Ausgabe 8/2018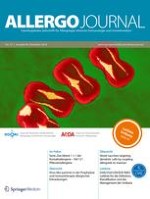 Novel vaccines targeting dendritic cells by coupling allergoids to mannan
Zeitschrift:
Autoren:

Cristina Benito-Villalvilla, Irene Soria, José Luis Subiza, Oscar Palomares
Wichtige Hinweise
Acknowledgements
The authors' laboratories are supported by grants SAF2014-52706 and SAF2017-84978 to O.P. from MINECO, Spain; IDI-20110410 and IDI-20141131 to Immunotek S.L. from CDTI and MINECO, Spain. O.P. is a Ramon y Cajal Scholar funded by MINECO and European Social Fund. C.B.-V. is recipient of a FPU fellowship from MINECO.
Conflict of interest
C. Benito-Villalvilla declares that she has no competing interests. I. Soria is employee of Inmunotek S.L. J.L. Subiza is the CEO-President of Inmunotek S.L. O. Palomares received lecture fees from Allergy Therapeutics, Amgen, AstraZeneca, Inmunotek, Novartis, Sanofi-Genzyme and Stallergenes and participated in advisory boards from Novartis and Sanofi-Genzyme.
Cite this as
Benito-Villalvilla C, Soria I, Subiza JL, Palomares O. Novel vaccines targeting dendritic cells by coupling allergoids to mannan. Allergo J Int 2018;27:256–62
Abstract
Allergen-specific immunotherapy (AIT) is the single disease-modifying treatment for allergy. Clinical trials show AIT to be safe and effective for many patients; however, it still faces problems related to efficacy, safety, long treatment duration and low patient adherence. There has been intensive research to develop alternative strategies, including novel administration routes, adjuvants or hypoallergenic molecules. Promising results are reported for some of them, but clinical progress is still moderate. Allergoids conjugated to nonoxidized mannan from
Saccharomyces cerevisiae
have emerged as a novel concept of vaccine targeting dendritic cells (DCs). Preclinical human and animal models demonstrated that allergoids conjugated to mannan enhance allergen uptake, promote healthy responses to allergens by inducing Th1 and T regulatory (Treg) cells, and show clinical efficacy in veterinary medicine. Dose-finding phase II clinical trials in humans are currently ongoing. We review the current stage of allergoids conjugated to mannan as next generation vaccines for AIT.