01.06.2015 | Original Article | Ausgabe 6/2015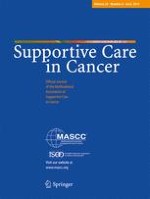 NRS-2002 for pre-treatment nutritional risk screening and nutritional status assessment in head and neck cancer patients
Zeitschrift:
Autoren:

Helena Orell-Kotikangas, Pia Österlund, Kauko Saarilahti, Paula Ravasco, Ursula Schwab, Antti A. Mäkitie
Abstract
Background
The aim of this study was to assess the value of nutritional risk screening-2002 (NRS-2002) as a nutritional risk screening and status assessment method and to compare it with nutritional status assessed by subjective and objective methods in the screening of head and neck cancer patients.
Methods
Sixty-five consecutive patients (50 male), with a median age of 61 years (range, 33–77), with head and neck squamous cell carcinoma (HNSCC) were enrolled prior to cancer therapy. Nutritional status was assessed by NRS-2002, patient-generated subjective global assessment (PG-SGA), handgrip strength (HGS) and mid-arm muscle area (MAMA).
Results
Twenty-eight percent of patients were at nutritional risk based on NRS-2002, and 34 % were malnourished according to PG-SGA, while 43 % had low HGS. NRS-2002 cut-off score of ≥3 compared with the nutritional status according to PG-SGA showed 77 % specificity and 98 % sensitivity (
K
 = 0.78). NRS-2002 was able to predict malnutrition (PG-SGA BC) both in men (
p
 < 0.001) and in women (
p
 < 0.05). NRS-2002 identified correctly patients with malnutrition with a score of ≥3 (
p
 < 0.001) and risk patients with a score of ≥2 (
p
 < 0.001).
Conclusions
These results suggest that NRS-2002 seems to be a reliable indicator of malnutrition, while NRS-2002 with the cut-off score of ≥2 seems to be more reliable for nutrition screening in head and neck cancer patients prior to oncological treatment.