01.12.2017 | Review | Ausgabe 1/2017 Open Access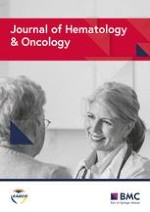 Nuclear microRNAs in normal hemopoiesis and cancer
Zeitschrift:
Autoren:

John E.J. Rasko, Justin J.-L. Wong
Abbreviations
mRNA Messenger RNA pre-miRNA
RISC
RNA-induced silencing complex
Background
Non-coding RNAs are RNA molecules that are not translated into proteins but are nevertheless functional. They include long non-coding RNAs, intronic RNAs, circular RNAs, competing endogenous RNAs, microRNAs (miRNAs) and Piwi-interacting RNAs that are known to regulate gene expression at both the transcriptional and post-transcriptional levels [
1
–
5
]. Of all non-coding RNA species, miRNAs are best characterized in terms of their biogenesis and functions.
miRNAs are approximately 22 nucleotides in length. They play major roles in numerous biological processes including cell differentiation, lineage specification, reprogramming, immune response and the cell cycle [
6
–
10
]. Almost 30,000 miRNAs in 223 animal and plant species have been annotated in the miRNA database, miRBase (Release 21, June 2014). Even viruses, particularly herpesviruses, encode miRNAs to enhance their replication potential [
11
,
12
]. The biological importance of miRNAs is further highlighted by the deregulation of miRNA expression in many diverse human diseases including cardiovascular [
13
], neuronal [
14
,
15
], inflammatory [
15
], dermatological [
16
], hepatological [
17
] and malignant diseases [
18
–
20
]. Given their key roles in many normal and disease-related processes, it is not surprising that miRNAs are enthusiastically viewed as potential druggable targets. To achieve this goal and anticipate side effects, it is important to understand their mechanisms of action and functions.
It is generally recognized that most mature miRNAs are localized in the cytoplasm along with the four catalytic Argonaute (Ago) proteins, where they contribute to the RNA-induced silencing complex (RISC) [
21
–
23
]. It is via this RISC complex that miRNAs regulate gene expression by targeting messenger RNAs (mRNAs). The majority of binding sites for miRNAs are within the 3′ untranslated region (3′ UTR) of target mRNAs in animals, whereas they are often within coding regions in plants [
24
]. A mature miRNA can bind to the 3′ UTR of a target mRNA based on partial sequence complementarity between the two to initiate one of several mechanisms to reduce mRNA and/or protein levels. These mechanisms include repression of translational elongation, impairment of translation initiation, and decapping and deadenylation of mRNA, which are reviewed extensively elsewhere [
25
–
27
].
Notably, numerous nuclear miRNAs have also been reported. These miRNAs may have diverse known or unknown non-canonical functions. Herein, we discuss how nuclear-localized miRNAs, although synthesized through biogenesis pathways identical to cytoplasmic miRNAs, could be shuttled back and retained in the nucleus to exert functions that differ from canonical miRNA actions. We focus especially on our current knowledge concerning the distribution and roles of these miRNAs in hemopoietic and cancer cells.
Evidence of nuclear-localized miRNAs
Nuclear-localized miRNAs in hemopoietic cells
Nuclear-localized miRNAs in cancer
Challenges in determining the functions of nuclear miRNAs
Nonetheless, it is important to recognize that miRNAs have been reported to shuttle from the cytoplasm into the nucleus. So, even if repression of specific nuclear miRNAs is achieved, the observed functional loss may be due to the overall depletion of cytoplasmic miRNAs that are inhibited when they enter the nucleus. In such a case, it would be very challenging to discern the specific role of a given nuclear-localized miRNA. Optimal experiment design should exclude changes in cytoplasmic miRNA expression as a contributor to any phenotypic alteration. Alternatively, despite experimental hurdles, it is necessary to distinguish the function of any given nuclear miRNA from its cytoplasmic counterpart.
Conclusions
The importance of miRNAs in hemopoiesis and cancer through the post-transcriptional regulation of the expression of relevant genes has been well-established. In recent years, non-canonical roles for nuclear-localized miRNAs have been uncovered. While there is evidence that nuclear miRNAs regulate the transcription of specific genes in hemopoietic and cancer cells, these examples are relatively few in the context of the vast published literature on miRNAs in these cell types. In this review, we have described nuclear miRNAs that promote granulopoieis and those that enhance the expression of tumor suppressor genes and oncogenes. The roles of nuclear miRNAs in the vast majority of myeloid and lymphoid cells remain to be determined. Their roles in cancer, including post-transcriptional silencing of tumor suppressor genes, is as yet unreported. Therefore, examination of the functions of these nuclear miRNAs should prove to be a fruitful area for further research.
Acknowledgements
Not applicable.
Funding
JEJR and JJ-LW received funding from the National Health and Medical Research Council of Australia (Grant Nos. 1061906 to JEJR, 1080530 and 1128175 to JEJR and JJ-LW, and 1126306 to JJ-LW). JEJR is funded by the Cancer Council of NSW, Cure the Future and an anonymous foundation. JJ-LW holds a Fellowship from the Cancer Institute of NSW.
Availability of data and materials
Data sharing is not applicable to this article as no dataset was generated or analyzed in this review.
Authors' contributions
JEJR and JJ-LW wrote the manuscript. Both authors read and approved the final manuscript.
Competing interests
The authors declare that they have no competing interests.
Consent for publication
Not applicable.
Ethics approval and consent to participate
Not applicable.
Open Access
This article is distributed under the terms of the Creative Commons Attribution 4.0 International License (
http://​creativecommons.​org/​licenses/​by/​4.​0/​
), which permits unrestricted use, distribution, and reproduction in any medium, provided you give appropriate credit to the original author(s) and the source, provide a link to the Creative Commons license, and indicate if changes were made. The Creative Commons Public Domain Dedication waiver (
http://​creativecommons.​org/​publicdomain/​zero/​1.​0/​
) applies to the data made available in this article, unless otherwise stated.