01.12.2017 | Research | Ausgabe 1/2017 Open Access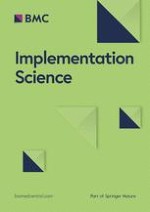 Number and type of guideline implementation tools varies by guideline, clinical condition, country of origin, and type of developer organization: content analysis of guidelines
Zeitschrift:
Autoren:

Laurel Liang, Jhoni Abi Safi, Anna R. Gagliardi, members of the Guidelines International Network Implementation Working Group
Abbreviations
GI tools
Guideline implementation tools
Background
Methods
Approach
Guidelines produced by various types of developers on a variety of clinical topics in different countries were analyzed to identify and describe the GI tools they offered. Content analysis of guidelines and GI tools was employed. Manifest content analysis was used to examine guidelines for the presence of GI tools [
28
]. This is a method that qualitatively and/or quantitatively describes explicit content as reported in written, verbal, or visual communication, without an interpretation of its underlying meaning. Directed/deductive and summative content analysis techniques were employed to categorize GI tools according to the existing framework of GI tools [
16
] (directed/deductive) and to enumerate the number and types of GI tools overall and across different types of guidelines [
29
] (summative). Ethics review and approval was not required because guidelines were publicly available.
Sampling
Guideline topics were chosen to reflect a range of common chronic and acute conditions that are managed in a variety of health care settings and affect both men and women worldwide. These included English-language guidelines on the overall general management (most often including diagnosis, treatment, and follow-up care, but sometimes also prevention and screening) of arthritis, asthma, colorectal cancer, depression, diabetes (not gestational), heart failure and stroke; guidelines on very specific topics, for example, use of a particular assay for diagnosis, or on rare forms of disease were not eligible. Guidelines published in 2010 or later were included since prior research had largely examined guidelines published prior to 2010 [
16
,
27
] and because the most recent version of the AGREE instrument published in 2010 provided developers with an expanded and more detailed description of types of GI tools (i.e., these may include a summary document, a quick reference guide, educational tools, results from a pilot test, patient leaflets, or computer support) compared with the earlier version published in 2001 (i.e., the guideline is supported with tools for application) [
20
]. The definition of GI tools was expanded to include any self-contained informational or interactive print or electronic resources in the guideline document or accompanying documents, websites, or applications; instructional information relevant to implementation conveyed in a paragraph or section of the guideline was not considered a GI tool [
16
].
Searching and screening
Guidelines were identified in the National Guideline Clearinghouse, a comprehensive, publicly available inventory of international guidelines maintained by the Agency for Healthcare Research and Quality (
www.​guideline.​gov
). A research assistant (JAS) searched for guidelines using the name of the condition, for example, arthritis, in both the browse and search features on the National Guideline Clearinghouse website, which identified all general or specific guidelines related to the condition of interest, and compiled a list of all guidelines on those topics published in 2010 or later. ARG and JAS independently reviewed the list and selected eligible guidelines according to sampling criteria. The full text of eligible guidelines and accompanying GI tools were retrieved from the websites of corresponding guideline developers. Searching, screening, and acquiring full-text items were conducted in July 2015. In June 2017, another research assistant (LL) visited developer websites to update searches and independently verify whether all guidelines considered eligible in July 2015 and their GI tools were still available and to independently extract and summarize data. This step identified the most recent versions of guidelines and GI tools originally included.
Data collection
A data extraction form was developed to collect information on guideline web address, country of development, clinical condition, type of developer (based on data, subsequently categorized into professional society, government agency, disease-specific foundation, non-profit agency, academic institution, or independent expert panel), presence of GI tools (yes/no), GI tool web address, and type of GI tool. GI tools were categorized based on a modified version of the previously published GI tool framework [
16
]. Table
1
lists the categories and types of GI tools along with descriptions that were used to categorize GI tools. As a pilot test in 2015, ARG and JAS independently analyzed the content of three guidelines and accompanying GI tools and compared and discussed their work to standardize coding and refine the data extraction form. JAS proceeded to analyze the content of all guidelines and GI tools. In 2017, discrepancies in data extraction between LL and JAS were jointly reviewed and resolved by LL and ARG.
Table 1
Framework of types of GI tools
Category

Type

Description

Patient support

Information

Print or electronic information about the condition, management options, or additional sources of information

Guideline summary

Short versions of guidelines designed for patients and care partners

Self-management support

Resources such as charts, templates, and action plans that can be used by patients to better manage their disease and daily activities

Clinician support

Guideline summary

Short versions of guidelines for clinicians in print or electronic format including pocket cards, summaries, or applications

Algorithm

Flowcharts or clinical pathways that provide step-by-step guidance for patient management

Form or checklist

Print or electronic documents to be completed by clinicians for documentation in patient medical records

Implementation support

Training material

Resources to support educational meetings or self-directed learning such as powerpoint presentations or study modules

Resources

Human, infrastructure or funding resources, or instructions or processes needed for guideline implementation

Evaluation support

Audit tools

Guidelines or manuals to support the evaluation of guideline-compliant practice before and after guideline implementation

Measures

Quality indicators or performance measures by which to assess compliance with guideline recommendations
Data analysis
As described above, directed/deductive content analysis was independently applied across three coders to describe guidelines and GI tools. Summary statistics were used to describe guidelines (by number, condition, country, type of organization) and GI tools (by number, category, type of GI tools) and to report their frequency by condition, country, and organization. Exploratory tests of association between GI tools and developer or guideline characteristics were not performed due to small numbers in subgroups.
Results
Discussion
Few studies have described the costs of generating guidelines and associated products. Therefore, future research should assess the necessary expertise and resources so that guideline developers can anticipate, acquire, or make a business case and budget for GI tool development. Further research is warranted to evaluate the specific types and characteristics of clinician, patient, implementation, and evaluation GI tools that optimize guideline implementation and associated behavioral and clinical outcomes, including which GI tools are more impactful in print or electronic format. Another outstanding issue is the degree to which GI tools should be evidence-based and rigorously evaluated to establish their effectiveness, which also has implications for the expertise and funds required to develop GI tools. Such knowledge would help developers choose GI tools appropriate for a given guideline and decide where to direct their efforts and resources.
Conclusions
The study suggests that many guidelines did not include or were not accompanied by any GI tools, or a variety of GI tools for different stakeholders despite evidence of the impact of GI tools on guideline uptake, and the availability of frameworks and guidance for generating GI tools. Developers should consider including GI tools for clinicians that could be integrated with computer decision support systems at the point-of-care, for patients to support decision-making and self-management, and for managers or policy-makers to evaluate and improve care. The variation in numbers and types of GI tools by guideline, condition, country, and organization implies a potential for improvement among many guideline developers. However, research is needed to establish reasons underlying the lack of GI tools to reveal strategies that may be needed to foster GI tool development such as targeted funding from health system and research funders. Research is needed to examine the cost-effectiveness of various types of GI tools so that developers know where to direct their efforts and scarce resources.
Acknowledgements
The members of the Guidelines International Network Implementation Working Group (
g-i-n.​net/​working-groups/​implementation
) reviewed this manuscript to further refine the interpretation of the findings and enhance communication of the findings. They included:
• Melissa J. Armstrong, University of Florida, USA
• Susanne Bernhardsson, Region Västra Götaland Research and Development Centre for Primary Health Care, Sweden
• Julie Brown, University of Aukland, New Zealand
• Samantha Chakraborty, Monash University, Australia
• Margot Fleuren, VU University, The Netherlands
• Sandra Zelman Lewis, EBQ Consulting, USA
• Craig Lockwood, University of Adelaide, Australia
• Hector Pardo-Hernandez, Iberoamerican Cochrane Centre, Spain
• Robin Vernooij, Integraal Kankercentrum Nederland, The Netherlands
• Melina Willson, University of Sydney, Australia
The Guidelines International Network (G-I-N;
www.g-i-n.net
) is a Scottish Charity (SC034047). The views expressed in this article are those of the authors, and G-I-N is not liable for any use that may be made of the information presented.
Availability of data and materials
All data generated or analyzed during this study are included in this published article.
Ethics approval and consent to participate
Not applicable.
Consent for publication
Not applicable.
Competing interests
The authors declare that they have no competing interests.
Publisher's Note
Springer Nature remains neutral with regard to jurisdictional claims in published maps and institutional affiliations.
Open Access
This article is distributed under the terms of the Creative Commons Attribution 4.0 International License (
http://​creativecommons.​org/​licenses/​by/​4.​0/​
), which permits unrestricted use, distribution, and reproduction in any medium, provided you give appropriate credit to the original author(s) and the source, provide a link to the Creative Commons license, and indicate if changes were made. The Creative Commons Public Domain Dedication waiver (
http://​creativecommons.​org/​publicdomain/​zero/​1.​0/​
) applies to the data made available in this article, unless otherwise stated.