01.05.2014 | Research | Sonderheft 1/2014 Open Access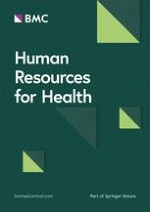 Nursing and midwife staffing needs in maternity wards in Burkina Faso referral hospitals
Zeitschrift:
Autoren:

Antarou Ly, Séni Kouanda, Valéry Ridde
Wichtige Hinweise
Competing interests
The authors declare that they have no competing interests.
Authors' contributions
SK conceived of the idea and participated in the design of the study. AL participated in the design of the study, coordinated data collection, and conducted the analysis and writing of the manuscript. VR helped develop the idea, study design, writing, and interpretation. All authors read, commented on, and approved the manuscript.
Abstract
Background
In 2006, Burkina Faso set up a policy to subsidize the cost of obstetric and neonatal emergency care. This policy has undoubtedly increased attendance at all levels of the health pyramid. The aim of this study was to measure the capacity of referral hospitals' maternity services to cope with the demand for health services after the implementation of this policy.
Methods
This study was conducted in three referral health centres (CMAs, CHRs, and CHUs). The CHU Yalgado Ouédraogo (tertiary level) and the CMA in Sector 30 (primary level) were selected as health facilities in the capital, along with the Kaya CHR (secondary level). At each health facility, the study included official maternity ward staff only. We combined the two occupational categories (nurses and midwives) because they perform the same activities in these health facilities. We used the WISN method recommended by WHO to assess the availability of nurses and midwives.
Results
Nurses and midwives represented 38% of staff at the University Hospital, 65% in the CHR and 80% in the CMA. The number of nurses and midwives needed for carrying out the activities in the maternity ward in the University Hospital and the CMA is greater than the current workforce, with WISN ratio of 0.68 and 0.79 respectively. In the CHR, the current workforce is greater than the number required (WISN ratio = 2).
This medical centre is known for performing a high number curative and preventive activities compared to the Kaya CHR. Like the CHU, the delivery room is a very busy unit. This activity requires more time and more staff compared to other activities.
Conclusion
This study showed a shortage of nurses and midwives in two health facilities in Ouagadougou, which confirms that there is considerable demand. At the Kaya CHR, there is currently enough staff to handle the workload in the maternity ward, which may indicate a need to expand the analysis to other health facilities to determine whether a redistribution of health human resources is warranted.