07.01.2021 | Case Report | Ausgabe 1/2021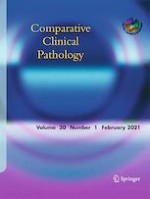 Nutritional secondary hyperparathyroidism–induced facial osteodystrophy in a Labrador puppy
Zeitschrift:
Autoren:

Deeksha Bharti, Y. Ajith, E. Madhesh, Naveen Kumar Verma, Mamta Singh, E. Kalaiselvan, Raja Raghuvaran, Srishti Soni, Kruti Debnath Mandal, Reena Mukherjee, Umesh Dimri
Wichtige Hinweise
Highlights
i. A rare case of osteodystrophy with facial hyperostosis due to nutritional secondary hyperparathyroidism in a puppy is described.
ii. Excess meat intake during growth phase in pups may predispose to hyperphosphatemia.
iii. Animal showed complete recovery by supplementation of calcium, calcitriol, and other supportive.
Deeksha Bharti and Y. Ajith equally contributed to this work and shares first authorship
Publisher's note
Springer Nature remains neutral with regard to jurisdictional claims in published maps and institutional affiliations.
Abstract
Parathormone is a key polypeptide hormone controlling bone remodeling by influencing calcium, phosphorus, and vitamin D homeostasis in mammalian body. This report describes unusual presentation of osteodystrophy causing facial hyperostosis due to nutritional secondary hyperparathyroidism in a puppy. A female Labrador Retriever dog aged 5 months was presented with progressive bilaterally symmetrical swelling on facial region, hypersalivation, and reduced growth rate. Excessive meat intake in daily ration since weaning was reported. Clinical examination revealed dyspnoea, open mouth breathing, epiphora, excessive nasal secretions, tachycardia, pale mucous membranes, debility, loosely attached teeth, and pigmented oral mucosa of the upper jaw. Microcytic anemia, lymphocytosis, eosinophilia, monocytopenia, hypoproteinemia with hypoglobulinemia, hyperalbuminemia, hypocalcemia, hyperphosphatemia, and decreased Ca:P ratio were evident in the hemato-biochemical study. Lateral radiographic view of the head revealed hyperostosis of the facial bones with irregularly arranged teeth on the upper jaw. Nutritional secondary hyperparathyroidism–induced facial osteodystrophy was diagnosed in the animal based on the history and other supporting clinical evidence. The animal was treated with a protocol extending for 4 weeks using calcium, calcitriol, essential minerals, vitamins, and steroids. The animal showed considerable improvement on day 14 and regained normal facial architecture by day 28 of the therapy.