01.12.2017 | Case report | Ausgabe 1/2017 Open Access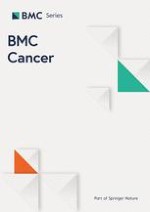 Objective response to mTOR inhibition in a metastatic collision tumor of the liver composed of melanoma and adenocarcinoma with
TSC1

loss: a case report
Zeitschrift:
Autoren:

Munveer S. Bhangoo, Jenny Y. Zhou, Siraj M. Ali, Russell Madison, Alexa B. Schrock, Carrie Costantini
Abstract
Background
Collision tumors are uncommon but well described clinical entities composed of distinct tumor histologies occurring within the same anatomic site. Optimal management of patients with collision tumors remains highly variable and depends on clinical characteristics such as the involved tumor types, predominant histology, as well as the extent of disease. Comprehensive genomic profiling is a means of identifying genomic alterations to suggest benefit from targeted therapy.
Case presentation
A 78-year-old woman presented to medical oncology with liver metastases occurring within the background of a 1-year history of uveal melanoma. Biopsy of the liver metastases revealed presence of adenocarcinoma along with nests of malignant melanoma consistent with a collision tumor. The disease was refractory to several lines of conventional cytotoxic chemotherapy, and the patient later developed pulmonary metastases while on chemotherapy. The patient's tumor tissue was assayed by comprehensive genomic profiling which revealed presence of a
TSC1
partial loss. The patient was subsequently initiated on temsirolimus 15 mg intravenously weekly for 4 months. Restaging imaging demonstrated a partial response to therapy by RECIST 1.1 criteria and clinical benefit for 6 months until the patient passed away secondary to unrelated causes.
Conclusions
We report the first case of a collision tumor composed of adenocarcinoma and melanoma with a
TSC1
mutation that objectively and durably responded to mTOR inhibition.