22.02.2018 | Original Article | Ausgabe 4/2018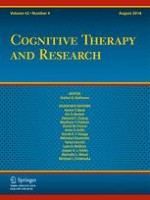 Observational Coding Training Methods for CBT Treatment Fidelity: A Systematic Review
Zeitschrift:
Autoren:

Natalie Rodriguez-Quintana, Cara C. Lewis
Wichtige Hinweise
Electronic supplementary material
Abstract
Observational coding is the gold standard for coding treatment fidelity in Cognitive Behavioral Therapy (CBT). This method allows researchers to objectively assess therapist behaviors to determine if CBT was delivered as intended. However, there is no standard method or protocol that ensures reliability within and between research groups, compromising comparability between studies. The aim of this study was to evaluate procedures used to train raters to quantify CBT fidelity. A systematic review was conducted. PsycINFO and Web of Science databases were reviewed for articles up until July 2015; the parameters of the search included CBT, depression, treatment fidelity, and coding/rating. A total of 521 articles were screened for inclusion, which yielded 81 articles. Data was extracted across four categories (study characteristics, training process, inter-rater reliability, and rating), and 62 codes. The results revealed variability in training approaches (e.g., 25.9% of articles reported 10–50 h of training). Very little information was provided about the training process (i.e. only one study specified training duration). Training materials were: manuals (21.0%), videos (18.5%), audiotapes (2.4%), readings (1.2%), and lectures (1.2%). Almost all (90.1%) studies did not describe the trainer, and 28.4% did not describe raters. The relation between CBT fidelity and clinical outcomes is equivocal, perhaps because intra-team and inter-team reliability is difficult to achieve. This systematic review revealed variability in training others to rate CBT fidelity, of which some approaches might inform the field for future use.